Story by Becky Hoag
In 2017-18, the UO women's basketball team was having a heck of a year. The team was slaying it on the court and made it all the way to the top of the PAC-12.
And yet, UO home games weren't filling the stands. No one seemed to know how well they were doing — or they didn't care enough to attend.
That's when UO School of Journalism and Communication (SOJC) alum and Columbia Sportswear CEO Tim Boyle came to the rescue. He hired the award-winning student-run advertising agency within the SOJC, Allen Hall Advertising (AHA), to create a campaign that would draw the crowds the UO women's basketball team deserved.
"The strategists and media planners had to come up with a creative brief," said advertising major Casey Hickman, an AHA student strategist assigned to the team's account. "That determines who the campaign will talk to, what it'll say to them, what's the main idea, why they should believe it and how we're going to reach them."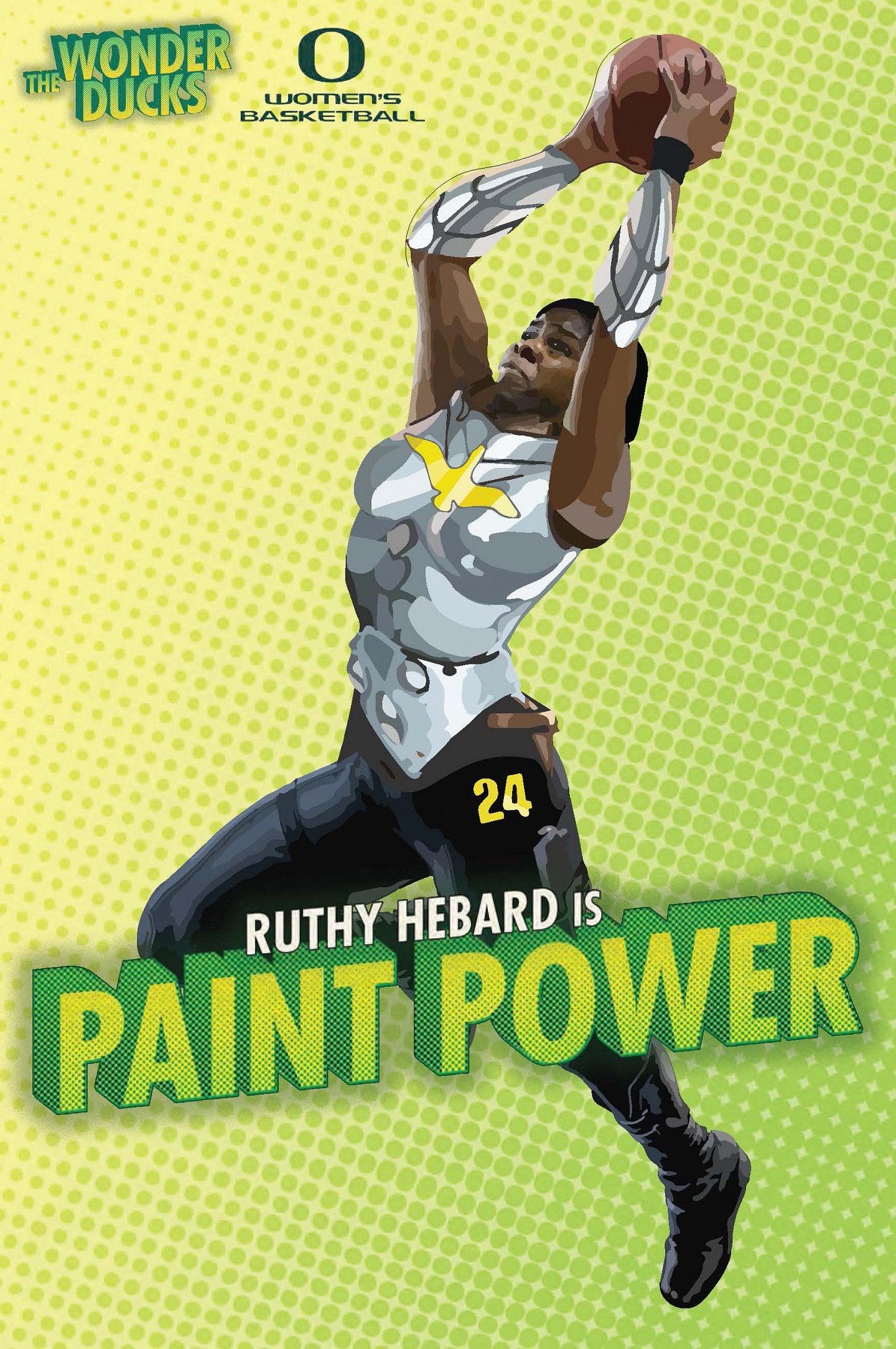 Once those key aspects were nailed down, it was up to the writers and art directors to pitch creative ideas that give the campaign its shape. Two ideas stood out: one promoting the team as a whole and another highlighting individual players. The advertising students quickly decided that focusing on the individual women was the most effective method of engaging their audience.
"This strategy came from researching into other women's sports to see exactly what had been successful in making them popular," Hickman said. "And what we found over and over again is that successful campaigns all linked back to the individuals on the team."
What better way to emphasize the strength and unique qualities of each athlete than to make them superheroes? That was the beginning of Wonder Ducks.  
The UO Athletics department loved the idea. As soon as it gave the green light at the end of November, AHA was off and running. The campaign had to be public soon after Christmas, so the newly formed account team had to execute a quick turnaround.
"It's kind of like a group project for class that's the biggest, most high-stakes groups project that I've ever been a part of," Hickman said.
Tapping into the popularity of superheroes in pop culture, the campaign turned each member of the women's basketball team into a comic-book-style hero. You couldn't step foot on campus without seeing eye-catching illustrations of Ruthy Hebard as "Paint Power" and Sabrina Ionescu as "Miss Triple Double." Giant vertical banners hung throughout the Erb Memorial Union and digital displays lit up the board outside Matthew Knight Arena. Custom Wonder Ducks basketballs were available for checkout at the UO Recreation Center. Local restaurants handed out Wonder Ducks coloring books. And the AHA in-house producers created videos to be broadcast over social media.
The campaign ran throughout basketball season, and its results speak for themselves. In less than two months, year-over-year attendance at the UO women's basketball games increased by more than 71 percent.
It was a success not only for the basketball team, but also for the students on the account team.
"It was an amazing experience!" Hickman said. "It taught me how to be professional and prepared me for my career."
According to Hickman, the experience showed him how much work it takes to create and implement a campaign and how many people and positions it takes to get the work done.
This year, AHA is expanding to include public relations students to help with the agency's bigger, more complex campaigns involving more multimedia content.
Hickman, now AHA's director of strategy, is already deep into this year's campaigns. He's not quite sure what he wants to do the summer after graduation, but he has already witnessed how AHA helps prepare students for the real world. The Wonder Ducks campaign and his AHA experience helped him land an internship at an advertising agency in Singapore over the summer.
"The first day I was there, I ended up sitting in on a creative pitch to a client, where we showed him our work, and it really struck me how it was exactly like what we did in AHA," Hickman said. "I felt so prepared to go into all of that stuff because AHA mirrors the real agency world so well."
---
Becky Hoag is a senior double-majoring in journalism and environmental science. This is her second year writing for the SOJC Communication Office. She's currently taking classes at the Oregon Institute of Marine Biology. This past summer, she worked as an intern at the KQED science desk in San Francisco, producing content for the new program about climate change, "This Moment on Earth." She is also a science writer for UO's Envision Magazine and The Daily Emerald. She wants to become a marine ecologist and environmental/scientific journalist. You can view her work at beckyhoag.com.