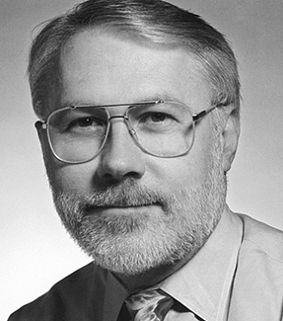 Mike Fancher has a vision—newspaper journalism committed to the public good, representative of diverse voices and responsive to readers' needs. The executive editor of The Seattle Times has bridged the distance between his vision and his reality with a fierce commitment to independent local ownership of newspapers and those newspapers' responsibility as a public trust.
As the newsroom's "Zen Master" of journalistic integrity, he pushes his reporters to take their responsibility as the public's watchdog seriously, asking them to pursue stories based on news judgment rather than economic concerns. Fancher credits the success of his newsroom, including the five Pulitzer Prizes earned under his leadership, to a belief in quality and ethics that was firmly established in his years at the UO, where he served as editor of the Oregon Daily Emerald. As a champion of civic journalism and open communication with readers, Fancher continues to write a weekly editorial for Inside the Times, explaining and exploring the paper's process.
Fancher joined The Times in 1978 as a reporter and served as assistant city editor, night city editor and assistant managing editor of news prior to becoming managing editor in 1981. He became executive editor in 1986.
In 1986, the National Press Photographers Association selected Fancher to receive the Editor of the Year Award. This award is presented in recognition of contributions as a managing editor in setting the standards for planning and cooperation among the staff to produce outstanding newspapers. Fancher received the Publisher's Circle Award for Executive of the Year in 1991 and 1997.
In addition to his bachelor's degree from UO, Fancher holds a master's in communication from Kansas State University and a master's of business administration from the University of Washington. He is a member of the board of directors of the Walla Walla Union-Bulletin, Yakima Herald-Republic and Blethen Maine Newspapers. He has served as a member of the board of the Associated Press Managing Editors and is a member of the American Society of Newspaper Editors and the Society of Professional Journalists. He has twice served as a judge for the Pulitzer Prize. Fancher also serves on the Advancement Council for the SOJC.
Caesar Andrews, president of the Associated Press & Managing Editors, notes, "Mike has a tremendous reputation. When you hear his name, it's connected with quality journalism. He's a thoughtful and impressive voice in this industry."