2022 Hall of Achievement Inductee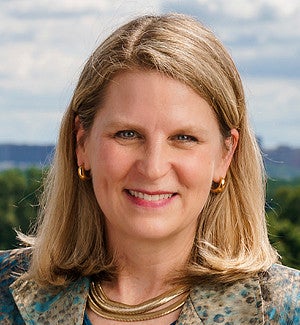 Liz Shuler, a 1992 graduate of the UO School of Journalism and Communication's journalism program, has spent her career in the labor movement. Her work has included all areas, from the grassroots, local level to the national level for both the International Brotherhood of Electrical Workers (IBEW) and the AFL-CIO, a federation of 57 unions for 12.5 million working people across all sectors of the U.S. economy.
Both of her parents worked at Portland General Electric — her father as a lineman and her mother as a service and design specialist — and Shuler spent summers in college working in the company's payroll department. Her first jobs out of college were at Pioneer Courthouse Square doing special events and government relations work at a Portland-based firm before she found her true calling as a union organizer for IBEW.
Shuler went to work for IBEW Local 125, where she built education programs, ran political campaigns and lobbied the Oregon and Washington state legislatures on behalf of their members. She helped defeat a bill to deregulate Oregon's electricity market. In 1998, she continued to work in political and legislative affairs as an international representative for the IBEW national headquarters in Washington, DC. She was promoted to chief of staff to IBEW's international president, which was the highest-ranking position held by a woman in IBEW's history.
In 2009 Shuler was the first woman and youngest leader elected as Secretary-Treasurer, the number 2 officer for the AFL-CIO. She was elected president of the AFL-CIO in 2021, after the death of her predecessor. In June 2022, a unified AFL-CIO convention re-elected Shuler as president and Fred Redmond as secretary-treasurer — the most diverse leadership team in the federation's history. 
Throughout her career, Shuler has fought to make life better for working people, reduce inequality, close pay gaps for women and people of color and invest in youth and workforce training. She is passionate about building labor-management partnerships and solutions-driven unionism. Shuler believes the labor movement is a powerful vehicle for social and economic progress and that unions are a central force in leading lasting societal transformations.