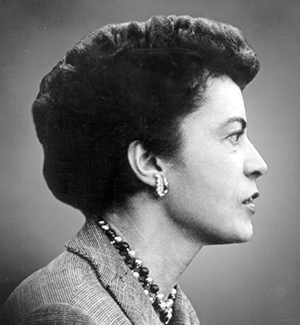 Laurie Johnston's pioneering newspaper career spanned six decades, beginning when she was fourteen and handsetting type at the Albany (Oregon) Democrat Herald. Even then, Laura Margaret Smith knew she was "a newspaper woman above all."
At UO she continued to pave the way for women in journalism. By her sophomore year, the student once referred to by Old Oregon as the "brainstorm of the journalism shack" was honored by Sigma Delta Chi, a men's journalism honorary, for her scholastic merits.
After graduating from UO, Johnston traveled around the world before landing in her beloved New York. She covered the Pacific from Pearl Harbor in 1943 for Reuters as one of few accredited female reporters. In 1946 she took a job in Newsweek's traditionally male international news department, where she stayed until joining the staff of the equally male New York Times in 1949. At The Times, she would become known for the humanity and wit of her writing, covering subjects as diverse as labor strife at the Metropolitan Opera, president Nixon's impeachment, and the early 1980s roller-skating craze in Central Park.
Johnston's superior writing earned her a column and the recognition of her peers. She received the Meyer Berger Award for distinguished writing from Columbia University's Graduate School of Journalism in 1980 for "her consistently warm and perceptive glimpses of the little and large dramas of New York." She retired from The Times at its mandatory age of seventy but continued to live in the city she adored. She did not forget her Oregon roots, however, and in 1984 established the Richard W. Johnston Lecture Series at the SOJC in honor of her late husband and fellow Hall of Achievement member.
Even in retirement, she viewed the world with a reporter's eye. After the World Trade Center towers were destroyed, Johnston spent many days visiting the site and analyzing how the events affected the lives of New Yorkers. She died in December 2001 at her second home in Hawaii.