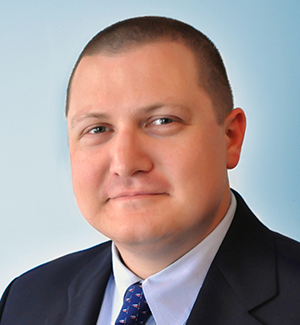 2012 Eric Allen Outstanding Young Alum
Jon Carras knew when he was a student at the UO what he wanted to do with his life. "I wanted to be a journalist," he says, "because I'm curious and interested in so many things. I think that curiosity breeds learning, discovery, and imagination. I love that I can dive into a topic and become a miniexpert on a subject that I know nothing about."
Born in Manchester, England, Carras spent the first nine years of his life in Oxford, where his father was a professor; his family then moved to Spokane, Washington, where he graduated from Mead High School in 1997. At the UO, Carras dove right in, first with an internship at KVAL and then at KEZI, where he produced the morning news during his senior year at the SOJC. After graduation, he landed a job as a producer at News 12 Cablevision in Norwalk, Connecticut. After nine months, he was hired as a producer on a then-new show on MSNBC, Countdown with Keith Olbermann, an experience he calls "a privilege and a pleasure. . . . Watching this show take off and do well was really special."
In 2006, Carras took a step back (and a pay cut) to get his foot in the door at CBS Sunday Morning, which he remembers as "a tremendous risk from both a career and financial standpoint." But Sunday Morning was his dream, and the decision has proved right. After six months, he was promoted from broadcast associate to associate producer. Now a producer, he has produced nearly 200 stories for the legendary broadcast, ranging from news topics, such as fatherhood with President Obama, Second Lady Jill Biden's first national profile, the demise of the Pennsylvania steel industry, and the fiftieth anniversary of JFK's inaugural, to feature stories, such as film critic Roger Ebert's cancer battle, Mike Tyson's struggle to stay sober, fashion icon Anna Wintour, and the houseboats of Sausalito, California.
For his work at Sunday Morning, Carras earned an Emmy Award in 2010 with correspondent Jeff Glor. He won James Beard Foundation Awards in 2012 for a story on British food photographer Carl Warner, and in 2009 for a story on the history of salt, reported by correspondent Martha Teichner. He has been honored with an AWRT Gracie award for his work with contributor Nancy Giles and a Genesis Award from the Humane Society for his work with correspondent Bill Geist.
"When I first met him, he was thorough," Teichner says of Carras. "He was considerate. Constantly coming up with the research you needed to put together in a form that made it easy to study everything you needed to study to prepare. He dotted every "i", he crossed every "t". He never let anything be chance. What you saw was his ambition, his dedication, and unbelievable work ethic at all times."
Carras is completing a master's degree in public policy and management at the University of London; he will finish in 2013. He hopes to go into management at the network level and possibly teach one day.
Carras serves on the CBS News Advisory Council, which helps shape guidelines, initiatives, and newsgathering at the network. In 2009, he initiated an internship at CBS News for University of Oregon students; sixteen students have benefited from his mentorship. He has been a fellow and guest lecturer at the Journalism Ethics Institute at Washington and Lee University in Virginia four times since 2004. He also serves as an Emmy Award judge. He is involved with Big Brothers Big Sisters of New York, Boys and Girls Clubs of Hudson County, and the TriBeCa Film Festival.
Carras lives in Rumson, New Jersey, with his wife, Lauren, and their son, George Soane Carras.