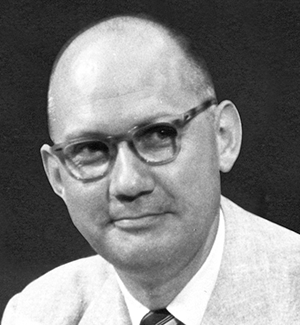 The standards set in journalism ethics by former professor and SOJC dean John Hulteng remain intact today. His book The Messenger's Motive was one of the first journalism textbooks to address ethics and has become a staple in the field. But Hulteng's expertise extended beyond scholarly research to the classroom.
Former colleagues have described him as a "master teacher." After his death in 1996, four of his former students wrote in a tribute that he was "not only the best teacher of journalism anybody ever had, but a lifelong adviser, correspondent and friend."
Hulteng joined the school's faculty in 1955 and served as dean from 1962-69 and from 1975-77. During his first term, Hulteng pushed to have the school accredited to offer broadcasting and public relations. In addition, Hulteng created the first scholarship for news-editorial majors. In 1969, he became the first member of the school faculty to win UO's Ersted Award for Distinguished Teaching.
Hulteng authored seven books. His publications are widely acclaimed and have brought great exposure to the school.
Hulteng left UO in 1977 to teach at Stanford, but returned in 1981 to deliver the SOJC's annual Ruhl lecture.
The John L. Hulteng Chair in Media Ethics and Responsibility, funded by Hulteng's widow and children, commemorates Hulteng as a man of high ethical standards.
In 1997, the John L. Hulteng Student Services Center in Allen Hall opened to honor Hulteng.