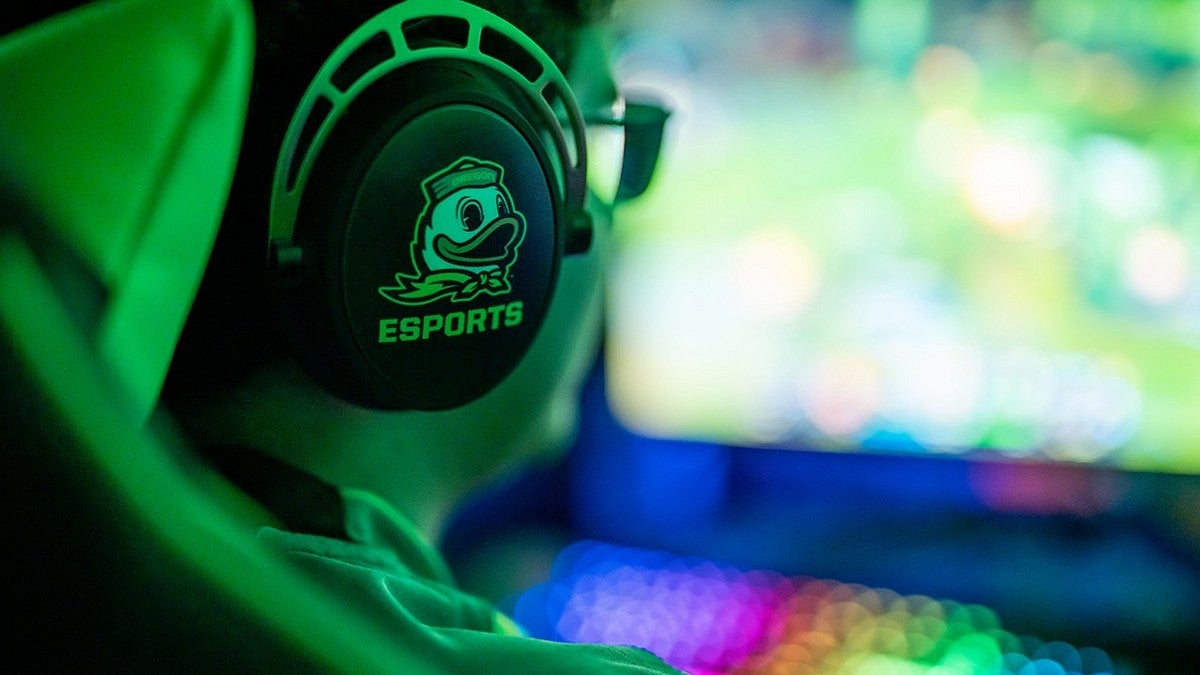 Video games have been a part of mainstream American culture since the 1980s, and streaming platforms like Twitch, YouTube Live and Discord make it easy to play with anyone, anywhere, at any time. Competitive online gaming — also known as esports — has become a billion-dollar media phenomenon with millions of viewers worldwide.
How is this new form of media affecting society? Amanda Cote and Maxwell Foxman, assistant professors of media and games studies in the UO School of Journalism and Communication (SOJC), are trying to find out.
Cote's research focuses on sexism and harassment in the gaming world. She hopes to provide insights into how collegiate programs can make their esports teams more inclusive.
Foxman is particularly interested in how esports intersects with video game journalism. Together, they are exploring the emergence of esports programs on college campuses and the effects these programs have on university communities.
In their first stage of research, Cote and Foxman spoke with players and administrators about collegiate programs around the country — including at the University of Oregon, which established the UO Esports team in 2018.
"Our goal was to start with interviews, get an idea of what's going on, and of the different shapes collegiate institutions can take," said Cote. "Then we're planning to leverage that into broader surveys once we have an idea of what questions we should even be asking."
The researchers plan to create white papers with suggestions for universities to strengthen their virtual gaming programs. They hope to show how esports might connect with traditional university programs, alumni and stakeholders.
"We want to have hands-on outcomes for people to build strong, inclusive programs that are of benefit to their collegiate communities, rather than limited in terms of the number of students," Cote said.
Shortly after joining the SOJC in 2018, Cote and Foxman were approached by David Gugliotti, a 2019 UO master of business administration graduate, about a plan to put together a varsity esports team on campus. Gugliotti later became the UO Esports program director for the 2019-20 school year.
Cote and Foxman thought this would be an interesting opportunity to investigate esports on a broader scale.
After interviewing students from institutions across the United States, they observed that small schools tend to incorporate esports into university life with a top-down approach. The school's administration might use it as a recruiting effort for the athletics department or to attract students to the school with scholarships. At larger schools, however, it is more common to see esports teams emerge from existing student-led gaming clubs.
"I think esports is in many ways the vanguard of the expansion of games into the traditional media world," Foxman said. "It's amazing how applicable these issues are across countries and different types of universities."
Cote and Foxman are in the process of establishing an esports research lab on campus. The lab's research is broad in scope and multidisciplinary in practice. Foxman emphasized that their work connects them to other departments at the UO and to other academic institutions across the world.
When the coronavirus caused the UO's Esports Lounge in the Erb Memorial Union to close, students successfully shifted their programming to an online platform. The SOJC's student-run television network, DuckTV, has been broadcasting and commentating on UO Esports matches.
"It's really nice to work in a program that's on the cutting edge of this kind of communication research," Cote said, "and that takes new media impacts very seriously."
— By Shannon Golden, class of '22
---
Shannon Golden, class of '22, is a journalism major at the School of Journalism and Communication. She is minoring in global studies and is particularly interested in international journalism. Golden currently works as a student writer for the SOJC Communications Team and Ethos Magazine.