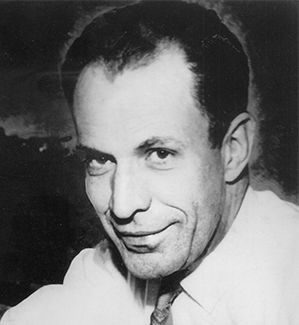 George Pasero spent more than half a century making his mark on the Oregon sports scene. Peter Thompson, former managing editor of The Oregonian who also worked with Pasero at the Oregon Journal, once said that Pasero "was so closely connected to sports that he was not only writing about sports, but he was an acknowledged part of that history.
The son of Italian immigrants, Pasero was co-editor of the Oregon Daily Emerald's sports department and the president of Sigma Delta Chi.  He graduated from the UO in 1940 and took a job with the Oregon Journal as a member of the Journal Juniors promotional department.  He joined the U.S. Navy in 1942 and served until February 1946. He then returned to the Journal in the spring of 1946.
He was named sports editor of the Journal in 1956 and continued in that position until 1982 when the paper merged with The Oregonian; He amazed his colleagues by running a sports department, covering games, and writing his column, "Pasero Says," which ran as many as six days a week for forty-one years. He continued to write a weekly column for The Oregonian after his retirement in 1985.
During his career, the National Association of Sportswriters and Sportscasters recognized him seven times as Oregon Sportswriter of the Year. The UO inducted him into its Webfoot Society, which recognizes "the best the University has to offer," in 1986.  That same year he was inducted into the Oregon Sports Hall of Fame for his special contributions to sports.  In 1992 he received the UO's Portland Alumni Spotlight Award.
He was a respected journalist known for his kindness, fairness, and humility and was liked and trusted by athletes and coaches alike.
Pasero died in 1997 at the age of 79. At the time, the Oregon Legislature memorialized him, stating that "the people of Oregon lost a local sports hero."  Oregon Senator Gordon Smith also remembered him to the U.S. Senate. "In these days where it seems that the sports world is full of million dollar salaries and million dollar egos," Smith said, "George Pasero liked to focus on the true joys of sports."
Longtime friend Harry Glickman '48 noted at his death Pasero's small stature (5-foot-3) but said, ''George was a journalism giant. He had the smallest shoes in the sports department, and they will be the largest to fill.''
His legacy continues. Each year, the Oregon Sports Awards (formerly the Hayward Awards) presents the George Pasero Team Award to a team from Oregon, regardless of competition level, which has achieved national recognition.