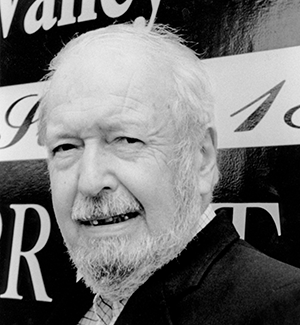 Although Fred Taylor says he had no grand goals when he started out in the newspaper business, he certainly reached heights that most rarely do. Taylor worked for The Wall Street Journal for 30 years and was executive editor when he retired in 1986. That same year, he received the university's Distinguished Alumnus Award.
Taylor began his career in journalism with the Astoria Budget (now the Daily Astorian) and was a sports writer with The Oregonian from 1952 to 1954. He joined The Wall Street Journal in 1955 when he began working in the New York Bureau as a copy reader which led him in 1959 to being a reporter, a page-one rewrite man and bureau chief in Detroit. In 1964 he originated the "Labor Leader" column in The Journal, and in 1966 moved on to Washington to cover the Pentagon. 1968 found him in San Francisco as the assistant managing editor in charge of West Coast operations where he was promoted in 1970 to managing editor.
In 1977, Taylor returned to New York where he was managing editor and then executive editor until his retirement. Among his responsibilities as executive editor was overseeing the production and editorial content of "The Wall Street Journal Report" on television, a nationally syndicated show produced by the paper.
He currently owns the weekly Coquille Valley Sentinel and is a stockholder in Eugene Weekly. Shortly after his retirement to his native Oregon, he started Prime Time, a monthly tabloid for seniors, which he later sold. Taylor has been a four-time Pulitzer juror and in 1992 and 1996 was chairman of the Pulitzer jury for biography/autobiography.