2017 Hall of Achievement Inductee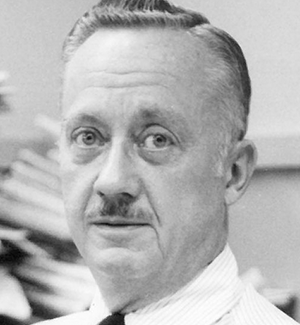 When Eric Allen Jr. started his career as a newspaper journalist and editor in Oregon, he had some impressive boots to fill. His father, Eric W. Allen, had founded the SOJC at the University of Oregon and served as its first dean for 30 years. But after a distinguished 44-year career, the younger Allen more than earned his own title as "Dean of Oregon Editors."
Allen was born in Eugene, Oregon, on September 14, 1920, to a family that was steeped in the written word. In addition to his father's legacy as a journalist and educator, his mother, Sally Allen, was a nationally renowned poet, novelist, and playwright.
Allen attended university classes before withdrawing to serve in World War II. Upon his return from the war, he held jobs at newspapers in Oregon and California before working as the United Press International bureau chief in Fresno, California, and Salem, Oregon.
In Fresno, he met and married artist Betty Magee, who later co-founded Medford's Rogue Gallery & Art Center. They were married until Betty's death in 1962.
In 1944, Allen left journalism to serve as private secretary to governors Earl Snell and John Hall. When Snell died in a plane crash in 1948, Allen returned to his lifelong calling, taking a job as the first city editor of the Medford Mail Tribune.
From the 1950s through the 1980s, Allen wrote an average of 12–16 editorials a week—signed only with the initials E.A.—advocating for civil liberties, gun control, and environmental conservation. He was also active in civic affairs in southern Oregon, where he earned a reputation as a progressive liberal in a conservative corner of the state. In addition, Allen was a co-founding trustee and treasurer of Mercy Flights Inc.
Allen moved up through the ranks at the Mail Tribune, becoming managing editor in 1956 and editor in 1964. Although he was quick to point out poor grammar and inaccuracies, he was considered a fair boss who doled out praise and criticism in equal measure.
In 1976, Allen accepted the Voorhies Award for his editorials opposing a short-lived law preventing access. He also served as a Pulitzer Prize judge on three occasions.
At times, Allen's work was met with backlash, and he even received death threats in response to his handgun control editorials. His peers, however, recognized him as an impressive and influential editor. Mail Tribune publishers Gil Bogley and Stephen Ryder said he held "the highest standards of editorial integrity and quality" and did the paper a great justice through his work.
In 1985, at age 65, Allen retired from the Mail Tribune and was inducted into the Oregon Newspaper Hall of Fame. He passed away one year later, on Christmas Day.