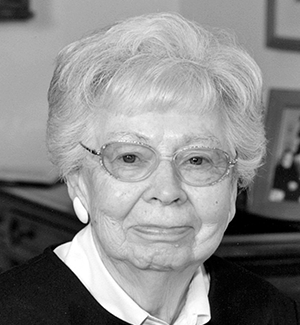 It is probably no exaggeration to say that Eleanor Aldrich Forrester was born with newspaper ink in her veins. Her father, Ed Aldrich, owned and served as editor of the East Oregonian, and young Eleanor was quick to follow in the family business. As a high school student in Pendleton, she interviewed the superintendent of schools for the paper. Eleanor also filled in at the business office, learning the skills that would serve her well as she progressed in the business side of the industry.
During Christmas break from UO, Eleanor met EO newsman Bud Forrester. Their marriage launched one of the most effective newspaper tandems in Oregon.
Just after World War II, with Eleanor heading the business side and Bud handling the news side, the Forresters put out a weekly in North Bend. In 1950, following the death of Eleanor's father, the two took over running the East Oregonian with Eleanor's sister, Amy Aldrich Bedford. Despite lean times, they started motor routes to deliver the paper to neighboring counties, and in 1960, bought the first offset web press west of St. Louis.
During more than 20 years at the East Oregonian, Eleanor played a key role in the development of the paper. C.K. "Pat" Patterson, corporate general manager of the East Oregonian Publishing Company, remembers that "Eleanor has almost always been the reliable, clear and sometimes hard-headed voice of business while her husband was a pure journalist. The business mattered to him, but essentially he was a journalist at heart. Together, they balanced those interests."
They also raised two journalist sons—Mike, publisher of Capital Press in Salem and former editor at Pendleton and Astoria; and Steve, publisher-editor of The Daily Astorian and former Washington correspondent.
In 1973 the Forresters took on The Daily Astorian, which Eleanor was involved in until her retirement in 1983. Eleanor as well as her sister Amy remain on the board of the company, which includes the Blue Mountain Eagle, in John Day; The Wallowa Chieftain, in Enterprise; and The Chinook Observer, in Long Beach, Washington; in addition to the East Oregonian, The Daily Astorian and Capital Press.
"As part of a family-owned operation, she and Bud were great believers in preserving the independence of the local newspaper," says Phil Bladine, chairman of the board of Oregon Lithoprint, publisher of the McMinnville News-Register. "There is no question that Eleanor has been a real driving force in the whole East Oregonian organization."