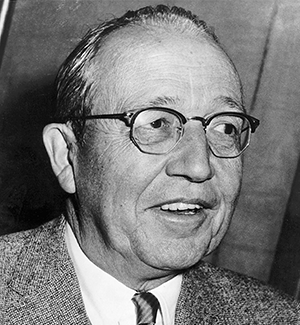 After serving in World War I as an infantry sergeant major, "Ep" Hoyt came to the university and the School of Journalism. In 1926, after working for the Pendleton East Oregonian, he joined The Oregonian as a copy editor. Thirteen years later he was named editor and publisher.
In 1946, Hoyt left The Oregonian to become publisher and editor of The Denver Post, where he reestablished the newspaper's separate editorial page, insisting on separating news from opinion. He was credited with transforming The Post into one of the best newspapers in the United States.
Hoyt's nearly 55-year newspaper career was characterized by a persistent desire for and drive toward excellence as well as tireless involvement in national, state and local issues. While with The Oregonian, during World War II, he served as regional chairman of the War Bond committee, director of the domestic branch of the U.S. Office of War Information, president of the Oregon Newspaper Publishers' Association and national president of the journalism society Sigma Delta Chi.
For much of his tenure in newspapers, Hoyt was a sought-after speaker. He was well known for a series of editorials denouncing Sen. Joseph McCarthy and was among the first to speak out in favor of federal aid to education. He was the first recipient of the University of Arizona's John Peter Zenger Freedom of the Press Award for The Post's stand against McCarthy. E. Palmer Hoyt died in June 1979.