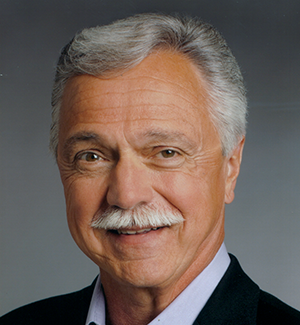 Early in life, Duncan McDonald figured out his formula for success: work hard and pay attention. He was nine years old, running up and down several flights of stairs in the public housing project where he lived on the east side of Cleveland, Ohio on the three newspaper routes that he shared with his older brother, Eric. They delivered the Cleveland Plain Dealer, the News, and the Press every day.
He read the papers and observed the people around him in that post–World War II melting pot. His mother took him to museums and to the library; his favorite books were biographies. He edited both the yearbook and the student paper at West High School; he always loved to write. His teachers recommended him for a journalism scholarship at Ohio University.
The first in his family to attend college, McDonald continued to work to help support them: selling shoes, driving a forklift, serving as a dormitory counselor. One summer, he wrote ad copy for a bank; another, he interned in the PR department of a local hospital.
As a senior in college and immediately after graduation, McDonald wrote for the Athens (Ohio) Messenger, the Cleveland Plain Dealer, and the Galesburg (Illinois) Register-Mail. He earned a scholarship to Northwestern University Law School—but changed his mind and headed to the University of Missouri with a scholarship in photojournalism. It was fate—two months later he met Jane Eyre, who was studying speech pathology.
In 1966, he enlisted in the U.S. Navy, where he served as a bridge officer, communications officer, and cryptographer on the U.S.S. Intrepid during the Vietnam War. He and Jane had married on his birthday in 1968. A year after his discharge in 1969 (with medals for Vietnam service and Navy Unit Commendation), the couple headed west to Oregon, seeking adventure.
1972 was a trifecta year for the McDonalds: Duncan earned a master of science in labor relations from the University of Oregon; their daughter, Vanessa, was born; and they purchased the West-Lane News and Tri-County News in Veneta and Junction City—they thought it would be fun. They quickly became part of the community; Duncan's mother came from Ohio to work in the front office. In 1975, UO School of Journalism dean John Crawford called and invited him to teach. This, too, was fate—for in teaching, McDonald found his true calling. His first class was Mass Media and Society, with 180 students, a number he found intimidating. He didn't even know what tenure was then, he remembers, but "I liked teaching, and I wasn't bad at it."
He received the university's Ersted Award for Distinguished Teaching in 1982; a year later, he was honored with teaching awards from the American Society of Newspaper Editors and the Modern Media Institute. Most students remember him as "tough but fair"—his "automatic F policy" is legendary—and his classroom demeanor, one that included stomping his foot to make a point.
"Reporting I with Duncan McDonald was the hardest class I ever took—and it convinced me I really could be a journalist," says Guy Maynard '84, retired editor of Oregon Quarterly. "Duncan was the first real model of the kind of editor I strove to be: unrelenting in his demand that you get the story right, but kind in helping you to get there."
In the 1980s and '90s, McDonald was a contract photographer for Sunset magazine, a wildlife photographer for Explorers World, and a book reviewer for the Chicago Tribune and for the National Press Photographers Association's Press Photographer magazine. In 1984, he teamed up with colleague Lauren Kessler to write the definitive introductory writing textbook, When Words Collide: A Journalist's Guide to Grammar and Style, now in its eighth edition. He is the author or coauthor of five other textbooks (four with Kessler, who calls him "one of the few people I know who can get truly excited over relative pronouns, not to mention the world's best coauthor").
Everette Dennis '64, former dean of the SOJC, invited him to serve as deputy director and chief operating officer of the Freedom Forum Media Studies Center at Columbia University in 1992. Dennis wanted a "true partner in leadership who knew and understood universities, but who also had mastered the practical operations of making an institution work effectively….someone who had cosmopolitan experience and who would look at New York in a broader context than would those who were more parochial. Duncan fit the bill on all counts."
Life in New York had its appeal, but by then, Eugene had become home. McDonald returned to the SOJC to serve as its eleventh dean in 1994, spearheading the first transformation of Allen Hall and securing funds for several endowed chairs. He also initiated the SOJC's doctoral program, which today has tripled in size and has alumni at colleges and universities throughout the U.S.
In 1997, McDonald was tapped by the UO administration to take over as vice president for public affairs and development at the start of the Oregon Campaign, then the most ambitious fundraising campaign in the state's history. The UO surpassed its $150 million goal, raising more than $250 million. McDonald's favorite memory of that time, he says, was twice attending the Kentucky Derby with Jane and Richard and Beverly Lewis— their horses Silver Charm and Charismatic, dressed in Duck colors, won two of three Triple Crown races. He'd come a long way from the eastside of Cleveland.
McDonald returned to teaching in 2001, retiring in May 2011 as professor emeritus. He has served as chair of the Accrediting Committee of the Accrediting Council for Education in Journalism and Mass Communications, public director of the Accrediting Council for Graduate Medical Education, and hearing appeals chair of the American Board of Medical Specialties. He once commented that "we don't need as much sleep as people think" and shows no signs of slowing down, continuing to serve on the board of Eugene-based nonprofit Volunteers in Medicine and spending time with grandsons Jericho and Geronimo. He says he still might go to law school.