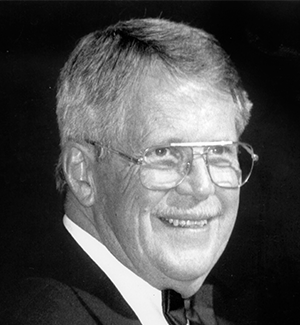 He let his life be his advertisement. His legacy continues even today. Few faculty members have been more beloved.
Bill Winter received his master's degree from the SOJC in 1956 and taught for three years as an instructor before joining the University of Washington faculty. He returned to the UO as an associate professor in 1968. Advertising, the popular introductory textbook he co-authored, was published in seven languages and five editions and used around the world. But Winter's main interest was serving students. His contagious passion for advertising made this demanding but eminently approachable professor a popular one; in Allen Hall, his office was always packed with students. He led seven UO student teams to victory in the Portland Advertising federation competition and in 1987 received the UO's Burlington Northern Award for Outstanding Teaching. Challenging, inspiring, and encouraging, he is remembered by many as a teacher who really made a difference.
The "Bingo Wall" where he showcased the job offers of former students was legendary. Longtime friend and colleague Roy Paul Nelson called Winter a "one-man placement bureau." Drawing on his connections from more than twenty-five years as an advertising consultant, he helped many of his students land top jobs. Former student Sandra Lane, who with Winter's help became one of the first women hired at J. Walter Thompson, noted, "If he thought a student had any promise, he would push, pull, drag and generally badger him or her into success."
The American Advertising Federation Winter named Winters "Advertising Man of the Year" in 1972. At his retirement in 1994, 125 former students and colleagues from Seattle to New York came to celebrate—the guest list was like a who's who in advertising. The Willis Winter Presentation room at the SOJC, funded by his former students and colleagues, is an inspiring setting for current students and an ongoing testament to his impact.
Winter died in 1995, a year after his retirement and the death of his beloved wife, Barbara. In a memorial to the UO Assembly in 1996, Emeritus Professor Jim Lemert noted that Bill Winter was "probably the single person most responsible for putting Oregon on the national map in the field of advertising education."