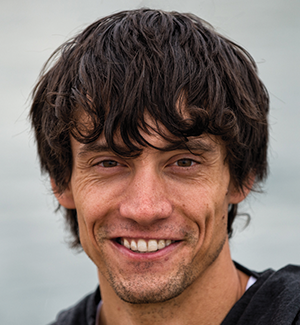 2014 Eric Allen Outstanding Young Alum
Andy Maser's decision to move West from his hometown of Baltimore, Md., was fueled by the perfect combination of academics and outdoor recreation – the University of Oregon's School of Journalism and Communication and the city of Eugene.
Maser's journey at the SOJC was not what he expected. He studied advertising, but found his passion was working in film.
Despite the change, Maser found the skills he developed as an advertising student applied directly to his life behind the camera. Advertisers have to understand their audience to communicate a message to them – Maser is now a master of this.
After graduation, he joined eNRG Kayaking, where he executed a six-week long adventure film festival tour, visiting 12 universities. The tour promoted an active lifestyle by generating excitement about outdoor recreation opportunities close to campus. The tour's success attracted the interest of National Geographic, which awarded his team with a Toga Award for actively promoting awareness through creative programs.
Maser made his first trip with National Geographic Explorer for a project in Papua New Guinea in 2007. It solidified his passion for adventure-based science and conservation storytelling. His team explored a river that began deep underground in the world's largest cave system and flowed through a remote jungle to the Pacific Ocean. That's all it took. One amazing trip with National Geographic and Maser has excelled in this craft ever since.
Maser has traveled around the world for multiple, diverse projects. He's told stories for the World Wildlife Fund, Namibia Film Series; Patagonia Athlete Profile Series; Travel Oregon; Discovery Channel; and Oregon Public Broadcasting's, Oregon Field Guide.
In the spring of 2014, his talent was formally recognized with four regional Emmy nominations. Maser took home two Emmys, the first for a project for OPB's Oregon Field Guide about the removal of the Condit River Dam on the White Salmon River, which took more than a year to film. At the time, it was the largest dam removal in history. The second Emmy was for a story about a recently discovered system of glacial ice caves on the west flank of Mt. Hood. The story won an Edward R. Murrow Award and an Online News Association Award for excellence and innovation in digital, online storytelling.
Currently, Maser is finishing a project called "International League of Conservation Photographers," where he is shooting America's national parks for IMAX. He is also working on a commercial series for National Geographic in Patagonia and India.
Aside from his passion for film, Maser enjoys the water. When he is not traveling the globe, he likes to surf, spearfish, and experiment with underwater photography.