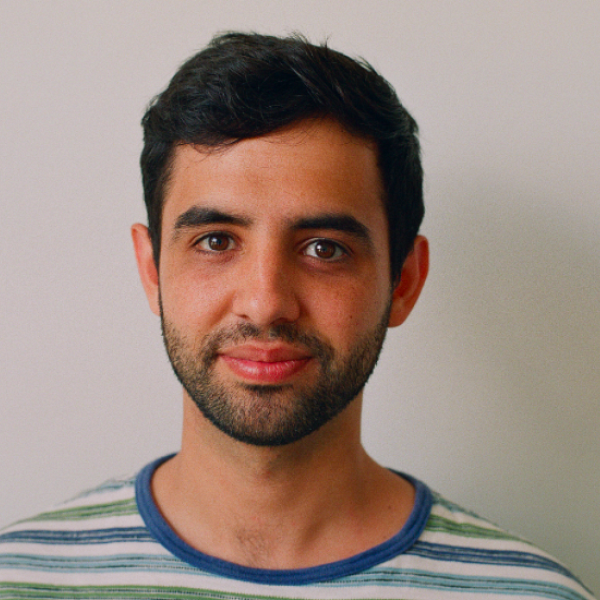 How do you go from helping start a standup club in college to writing with legends like Tina Fey, Robert Carlock and Mike Judge? First-generation Mexican-American comedy writer Brandt Hamilton '14 has done it all, and he got his start at the University of Oregon School of Journalism and Communication. 
After graduating from the UO, Hamilton dove into the NYC comedy scene, eventually landing a job at advertising agency Big Spaceship. From there, Hamilton got to write material for the Al Smith dinner, during which Hillary Clinton roasted Donald Trump with Hamilton's joke. After that, the rest of his future seemed to fall into place. 
What did you study at the University of Oregon? 
I went to the UO from 2011 through 2014 and graduated early because I'm a nerd. I studied journalism with an emphasis on advertising. 
Why did you choose the UO?
I always wanted to be a comedy writer. I knew I would eventually end up in either Los Angeles or New York, so I wanted to live somewhere completely different from that. I visited the University of Oregon, and it looked like it was "Lord of the Rings," so I was like, "All right, let's do it." Plus, the football uniforms were really cool.
What drew you to comedy writing? 
I come from a big family where everyone is very into comedy. A few specific things I can remember making me want to do it professionally were the Chappelle's Show's "Wayne Brady Sketch," Zoolander's "What is this, a center for ants?" joke, "Step Brothers," "30 Rock" and "The Colbert Report." 
Tell me about your career path so far. 
I graduated from Oregon and was part of the SOJC's New York Experience program. When I visited the Comedy Cellar, I was like, "Oh man, I love New York. I love that you can go up every night."
I applied, applied and applied for jobs in New York — none of which had any interest in me for a very long time. A dog food brand wouldn't hire me to write their tweets. A friend of mine was working for Vice, and she asked me if I had any ideas for articles. Naturally, I set out to figure out who exactly let the dogs out, and interviewed the Baha Men. 
I built up my writing portfolio and interned for a startup. From there, I interned for an advertising agency called Big Spaceship in Brooklyn. While I was there, I did standup at night and wrote satirical articles, which eventually landed me a gig as a volunteer comedy writer for the Hillary Clinton campaign.
Most of my material never got through, but the people in the campaign seemed to like me, and I got to get a joke or two into the Al Smith dinner, which is like this weird event where the two presidential candidates roast each other. Unfortunately, I made Donald Trump laugh, which I regret. But it was a cool credit regardless.
Speech writing was always in the back of my head, and by chance, Big Spaceship started volunteering for the Obama White House. We did this campaign for the Affordable Care Act, and it involved writing a video that starred Michelle Obama.
Then the 2016 election happened. Things were bad. As a first-generation Mexican American, I'm not a big fan of Donald Trump. So I wasn't feeling funny. 
I started doing what I learned at the UO — building a portfolio for speech writing. I volunteered for different nonprofits that felt like responses to the Trump presidency. Eventually, someone I worked with at the Hillary campaign started working as a speechwriter for Mayor Bill de Blasio. She asked me if I want to be a full-time speechwriter, and I said yes because we all make mistakes. 
After a little while and a lot of frustration with politics, I quit the mayor's office and started doing freelance comedy gigs. I saw that Tina Fey was writing a show about Ted Danson as mayor of L.A., and I said, "Oh, God, I want to submit for that." I let my manager know, and because she's the best, she let me know she was already on it. A week or two later, she sent me an email that said, "You have an interview next week with Tina Fey and Robert Carlock." I'm a huge "30 Rock" fan, so I peed my pants a little.
We got along well, and they hired me to write for NBC's "Mr. Mayor."  It was a truly wonderful experience.  And then, because I apparently ate a horseshoe at some point, I somehow am now writing for the "Beavis and Butthead" revival while we're waiting for "Mr. Mayor" to be renewed. So to make a long story short, I'm very lucky.
How did your time at UO prepare you for what you do now?
My buddies Joe Glasgow, Ben Schorr and I started a standup club my freshman year called the UO Stand Up Society. I found other like-minded people to collaborate with and write sketches together. It was like being one big, dorky comedy team. 
Who are some faculty members who influence you the most at UO?
Advertising professor Deb Morrison is amazing. Whenever I have something to brag about, I always text her to tell her. One of the most important things I learned from Deb was to apply social responsibility to your work.  
What is a piece of advice you'd give to someone just starting in comedy writing?
Everyone wants to be a writer. It's the coolest job, and you get to make silly jokes with some of the funniest people in the world all day. But no one will hire you because you want to be a comedy writer. You have to prove it. One of the great things about the UO, specifically the advertising program, is you have to make a website and a portfolio. So get out there and make stuff.
—Joanna Mann, '21 
---
Joanna Mann '21 is a senior majoring in journalism with a minor in music. This is Mann's first year writing for the SOJC Communication Office. She is a senior news reporter for the Daily Emerald and covers the University of Oregon Senate, Board of Trustees and Tuition and Fee Advisory Board. She also edits and writes opinion pieces for the Daily Emerald. She previously interned at Eugene Weekly, writing arts and culture pieces. She enjoys working in print journalism, focusing on local news, arts and culture. You can view her work at joannamann.com.