Our historic facilities, equipped with state-of-the-art multimedia labs and technology, represent the unique blend of innovation and tradition our school embodies.
Allen Hall on the Eugene Campus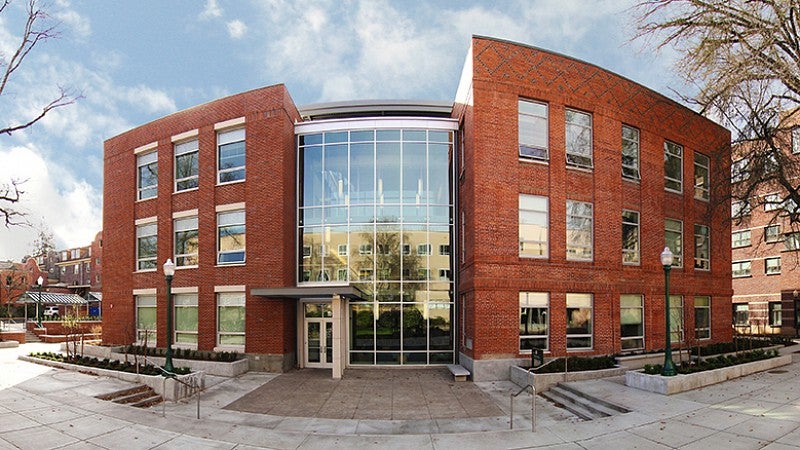 For more than a century, Allen Hall has sat at the heart of the UO campus in Eugene. Named for renowned journalist Eric W. Allen, who founded the SOJC in 1916, today it's home to state-of-the-art studios and collaboration spaces where students create compelling content using the latest media technologies.
Experience Hub
Put your hands on the hottest tech, and see what you can create. The Experience Hub is where SOJC students get to experiment with emerging technologies while building invaluable multimedia skills with the tools professionals are using in the industry now—and in the future. The new Experience Hub has everything you need to become a powerful content creator, including:
Immersive media lab
Pro-quality video and photo production studio and control room
Podcast studio
Social media analytics lab
Editing bays
Flexible spaces for collaboration
Expanded suites for Student Services, the Center for Science Communication Research, and Writing Central
Equipment Checkout Desk
We encourage fieldwork at the SOJC—and we've got the tech to support it. Whether your project is for a grade or for a real-world client, the equipment checkout (a.k.a., the J-Cage) is where you can get your hands on the gear you need, including:
Audio recorders and mics
Digital cameras and DSLR lenses
Video and photo lighting kits
Tripods and monopods
---
SOJC Portland on the White Stag Block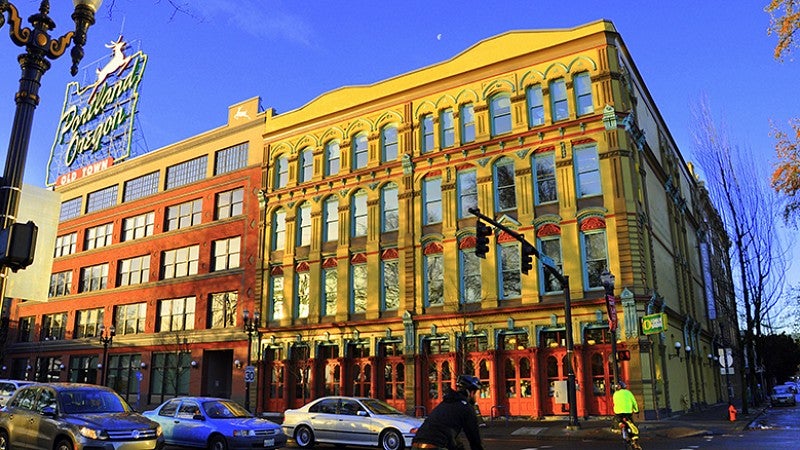 Tucked into the center of Oregon's biggest media market, SOJC Portland on the historic White Stag Block is loaded with charm—not to mention state-of-the-art tech. Immerse yourself in Portland's thriving downtown, and tell the stories of a city renowned for its uniqueness.
Oregon Reality (OR) Lab
The next media frontier is immersive, from 360 video to virtual reality (VR), augmented reality, and mixed reality (increasingly known as extended reality). We're pioneering media-making and research with these emerging technologies at our brand-new, state-of-the-art immersive experience lab. Visit SOJC Portland to demo our VR platforms and tools, attend an immersive event, see student-produced 360 videos and virtual worlds, and learn about faculty research exploring such topics as the ethics of VR and how virtual worlds help people with disabilities. 
Equipment Checkout Room
SOJC Portland students can borrow production equipment seven days a week, including:
Cinema cameras: Canon C100, C100 Mark II, C200, C300, XC10, and Sony FS700
Canon EOS 80D DSLR cameras with a variety of lenses
GoPro cameras, including a GoPro HERO5 Black and Karma Grip gimbal
Manual and motorized motion systems by Kessler, Dynamic Perception, and Rhino
DJI Ronin gimbal, Ikan DSLR gimbal, and DJI Osmo+ handheld gimbal with 4K camera
DJI Inspire, Mavic Pro Platinum, and Spark drones
360 cameras
Marantz audio recorders and Sennheiser microphones
Lighting and grip equipment