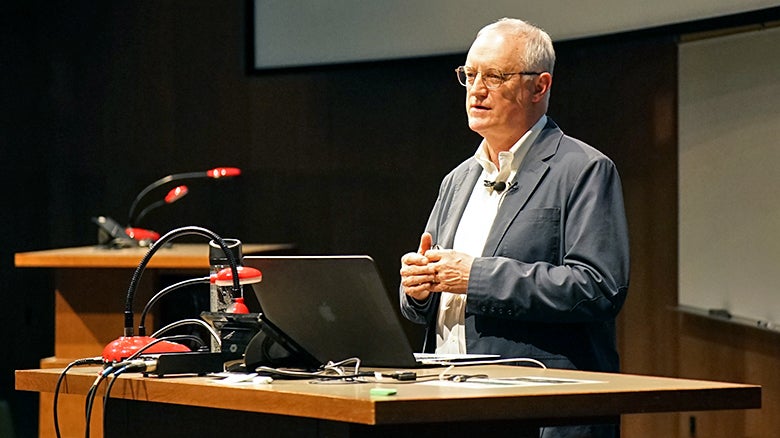 The annual Johnston Lecture brings professionals to the SOJC for thought-provoking lectures, workshops, and discussions about the thorny issues today's journalists face. Laurie Johnston '36, an award-winning New York Times writer, established the series in memory of her husband Richard Johnston '36, founding executive editor of Sports Illustrated. The series is made possible by generous gifts from the Johnston family, George E. Jones of U.S. News and World Report, and the Correspondents Fund.
Past speakers include author and journalist Ted Conover, author and journalist Susan Orlean, and news industry analyst Ken Doctor, MA '79.
---
2019 Johnston Lecture: "Lost Earth" with Randy Olson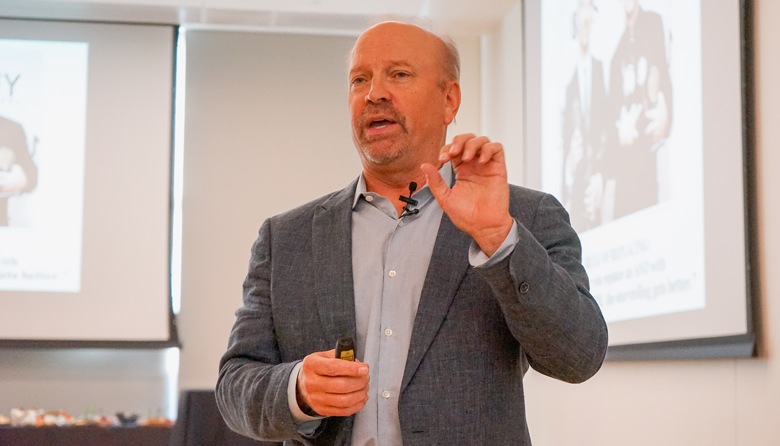 In his talk, "Lost Earth: How Science Failed to Communicate the Biggest Crisis," marine biologist-turned-filmmaker Randy Olson zeroed in on the role of poor communication in today's climate crisis. Olson, the author of three books on the communication of science, detailed the scientific community's failure to clearly present its research findings to the public over the past four decades and offered communication-based solutions. The event was co-sponsored by the SOJC's Media Center for Science and Technology and the Phil and Penny Knight Campus for Accelerating Scientific Impact.
---
2018 Johnston Lecture: "Our Anthropocene Conundrum" with Dennis Dimick
Dennis Dimick, former picture and environment editor for National Geographic, delivered a narrated visual journey through the Anthropocene—the past three centuries of human activity culminating in our fossil-fueled modern world. Presented by the SOJC's Media Center for Science and Technology, Dimick's talk makes a case that, while humans have created great prosperity on Earth, it's at a cost we must now reckon with. As we approach a turning point, communicators can help convince policy makers and the public that we must make an energy transition before it's too late.
---
Past Johnston Lecturers
2017 Ted Conover, author and journalist
2016 John Markoff (MA '76), senior writer for the New York Times
2015 Ken Doctor (MA '79), news industry analyst, Newsonomics
2013 Charles Jaco, journalist, Fox 2 News; radio host, KMOX
2012 Alex Kotlowitz, author, Bearing Witness: Storytelling and Human Rights
2011 Jonathon Gold, author, Experts in the Age of Citizen Journalism
2010 Andrew Revkin, environmental writer and blogger, The New York Times 2009    Tony Horwitz, author of five books, including A Voyage Long and Strange
2008 Peggy Orenstein, contributing writer, The New York Times; author, Flux: Women on Sex, Work, Love, Kids and Life in a Half-Changed World, Waiting for Daisy, and Schoolgirls
2007 Adrian Nicole LeBlanc, 2006 MacArthur Fellow; author of Random Family: Love, Drugs, Trouble, and Coming of Age in the Bronx
2006 Benoit Denizet-Lewis, contributing writer, The New York Times Magazine
2005 Erik Larson, author, Isaac's Storm
2004 Melissa Fay Greene, author, Last Man Out, The Temple Bombing
2003 Terry Tempest Williams, author, Refuge: An Unnatural History of Family and Place, Red: Passion and Patience in the Desert
2002 Edward Humes, Pulitzer Prize–winning journalist and author, No Matter How Loud I Shout, Baby ER
2001 Susan Orlean, contributing writer, The New Yorker; author, The Orchid Thief, The Bullfighter Checks Her Makeup: My Encounters with Extraordinary People
2000 Alex Kotlowitz, author, There Are No Children Here, The Other Side of the River
1999 Peter Matthiessen, author, The Snow Leopard, In the Spirit of Crazy Horse, Zen Journals
1998 Randall Rothenberg, former contributing editor, Esquire; author, Where the Suckers Moon
1997 Barbara Ehrenreich, columnist, TIME magazine; author, The Snarling Citizen
1996 James Fallows, The Atlantic Monthly
1995 Victor Navasky, The Nation
1993 Robin Morgan, Ms. magazine
1991 Ambassador "Bill" Lane Jr., Sunset magazine
1990 David Haupert, Magazine Group of Meredith Corporation
1990 Jack Fincher, Reader's Digest, Smithsonian
1988 Suzanne Braun Levine, former editor and vice president, Ms. magazine
1987 Richard Stolley, former editor, Life magazine
1986 Harold Hayes, former editor, Esquire
1984 Ray Cave, TIME magazine