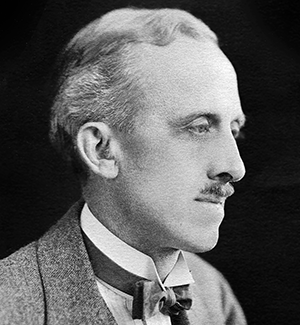 Impeccable. A humorist and a wit. William Franklin Goodwin Thacher followed his passion for creative writing to a lifelong interest in advertising and the establishment of a new discipline at the University of Oregon.
Thacher came to the University of Oregon in 1914 as a professor of rhetoric. In 1917, he taught the university's first advertising course—a copywriting class in the English Department. In 1932, he was named a professor of English and Advertising and from there he went on to build the advertising program in the School of Journalism and Communication.
Through his pioneering work in the school, Thacher provided the foundation for the current advertising curriculum, which enjoys a national reputation for excellence. Today's students continue to be the beneficiaries of his belief that "the fundamental quality of every good ad is sincerity—simple, downright honesty. Next comes enthusiasm, the quality that makes truth glow and shine."
As a teacher, Thacher cared deeply about the professional development of his students. He believed that education was essentially a personal interaction between a teacher and student, and he kept in touch with his students, faithfully corresponding with them long after they had taken his courses.
John Hulteng, former dean of the school and a member of the Hall of Achievement, said that Thacher was "at the same time gentle and demanding, courtly in his approach, yet insistent on the highest standards of performance."
Thacher organized campus affiliates of the two leading national professional societies for advertising students. Alpha Delta Sigma, the men's advertising club, named its chapter for him. He later became president of the national organization and remains its only lifetime member.
Thacher received his undergraduate and graduate degrees from Princeton. His early career included writing for Pacific Magazine.
F. G. Thacher died in 1972.