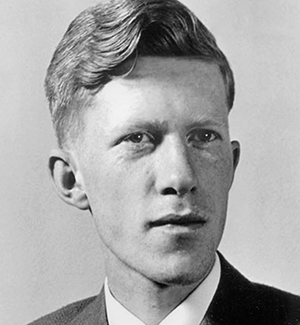 Wes Sullivan liked to say that his life began the day he showed up at the Campbell Club co-op at the University of Oregon, suitcase in hand. For the son of an unemployed single mother during the depression—he had supported the family with a paper route—college had seemed like an impossible dream.
It was a dream that began when a teacher at Franklin High School in southeast Portland told the young Sullivan, "You can write." So he did, joining the Young Oregonians, The Oregonian's student publishing group, and eventually becoming the editor of his high school paper, The Franklin Post, which was chosen as one of the All-American papers of the year in 1939. His newspaper advisor, who had recently transferred to the school from Grants Pass, suggested he meet a former student of hers who shared his interest in journalism. Her name was Elsie Brownell.
Their meeting—and Sullivan's dream—was deferred, as he took a year off after high school, working two paper routes until he had saved $250, about $3,200 in today's dollars, in order to enroll at the University of Oregon. At the UO, he began as a freshman writing and editing for the Oregon Daily Emerald before earning the prestigious title of editor of The Oregana, which he held for two years (Roy Paul Nelson, then a freshman, was the chief photographer). Sullivan also wrote comic poetry, dealing with subjects such as grades and girls, politics and war. These appeared in the Emerald under the mysterious byline of "JWS."
In 1943, Wes was called up to serve in the U.S. Air Force. Although he still had two credits to complete at the UO, Dean Eric Allen allowed him to count his ROTC credits, and he received his BS in journalism that June. He served in World War II as a pilot and copilot in the Eighth Air Force, flying thirty-five missions.
At the UO, he courted Elsie, who was also a journalism student. After their first date, an ill-fated canoe trip on the Millrace, Sullivan was sure he'd never see her again.
Instead, they stayed together, raising four children and enjoying eight grandchildren, until her death. For their fiftieth wedding anniversary, he presented her with his first book, To Elsie with Love, a chronicle of their early courtship and their life together. As Alzheimer's stole her memory, Sullivan read to her from the book so that she could remember her life. She died in 1993. He would remarry three times—all very happy marriages—to Rosemary Frank (d. 1994), Nell Crothers (d. 2004), and Ruth Gray Sullivan.
In 1945, after returning from the war, Sullivan began as news editor at the Oregon Statesman. His son, Bill, remembers him cheerfully "working at the paper until 2:00 a.m., coming home and sleeping until noon, and then getting up to do it again." A Nieman Fellowship in 1957, unheard of for an Oregon small-town newspaper at the time, took the family to Harvard, where his classmates were Russell Baker and Tom Brokaw; he attended classes taught by Henry Kissinger and returned with a broadened mind. He worked for the Statesman and its later incarnation, the Salem Statesman-Journal, for fifty-six years, rising through the ranks to become associate editor in 1968, editor in 1975, and then chairman of the editorial board of the Statesman-Journal in 1980. He also began writing columns in 1974.
Sullivan retired in 1986. As a Christmas gift that year, his sons edited and published Jam on the Ceiling, a collection of his columns, which he continued to write weekly until 2004. He was active in his community, teaching Sunday school at First Presbyterian Church in Salem for nearly fifty years, and leading efforts to build a city hall, a library, and a central fire station in Salem. He served on the state library board, the forestry board, the local school board, and for a time as president of the local Red Cross. His son, Bill, remembers that, when questioned about his activism and its potential to conflict with his role as editor, Sullivan responded, "How can I not, when I see the needs in the community?" For his contributions, he was awarded the Salem Key Citizen Award in 1985.
Sullivan served on the Journalism Advancement Council at the School of Journalism and Communication for many years, and helped to build the Sullivan Reporting Lab in Allen Hall in memory of both his father, Bill, and of Elsie. His awards were many, including the Oregon Newspaper Publishers Association President's Plaque for Outstanding Oregon Newsman in 1961; Oregon Journalism Roll of Honor, 1987; and the Governor Thomas McCall Freedom of Information Award, 1989. He was inducted into the Oregon Newspaper Hall of Fame in 1989.
Wes Sullivan died in 2007 at the age of eighty-six.