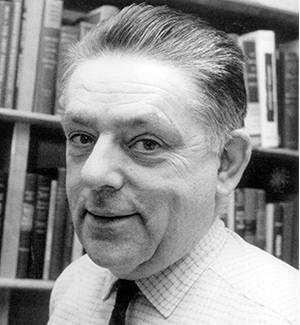 He was Warren C. Price, One of a Kind. Those were the words The Register-Guard used to describe Price, a dedicated professor and newspaperman, upon his untimely death in 1967 at the age of 58.
Bright and intense, Price earned a reputation for his impeccable standards, strong opinions and his gruff-but-kind disposition. His passion was his hallmark. From teaching to editing, spending time with his family, or listening to a Milwaukee Braves' ball game, Price gave each pastime equal play. His appetite for travel and addiction to trains were widely known. He memorized scheduled stops and departures in every city.
Price, who earned his BA and MA at the University of Wisconsin, joined the School of Journalism faculty in 1942. He would spend more than a quarter of a century in Allen Hall. During the summers, he sharpened his professional skills working at the copy desks of several midwest and eastern newspapers. During the school year, Price "kept his hand in" the newspaper industry by serving as editor of the Sunday edition of The Register-Guard. For 15 years, he spent his Saturday afternoons and evenings preparing the Sunday issue.
Price held the first Nieman Chair at Marquette University. The dean, Jeremiah L. O'Sullivan, described Price as "probably the best recognized of the teachers of journalism today, who has wide experience in the practical field of newspaper work."
His doctoral work got sidetracked when his hobby of annotating bibliographies of journalism books culminated in The Literature of Journalism: An Annotated Bibliography. The reference work won the Sigma Delta Chi Distinguished Service Award for Research in Journalism in 1959 and the Kappa Tau Alpha Journalism and Mass Communications Honorary Society Research Award in 1960.
Price was also active nationally as a journalism educator. He joined the Association for Education in Journalism (AEJ) in 1937 and was the editor of Journalism Quarterly. He started the Kappa Tau Alpha chapter at Oregon. In 1966, he was elected KTA's national president for a two-year term. He twice served as Acting Dean of the University of Oregon School of Journalism.
Ultimately, he finished his doctorate, submitting The Eugene Register-Guard: A Citizen of Its Community, as his dissertation. His degree was awarded posthumously in 1967.
Former students remember Price as "the best teacher they'd ever had." He was tough: he expected nothing but the best from his students and his colleagues. That's what he gave them. At his funeral, former School of Journalism Dean John Hulteng noted that "for nearly half the life of our School of Journalism Price gave the institution much of its vitality. That is the measure of our loss."