2012 Hall of Achievement Inductee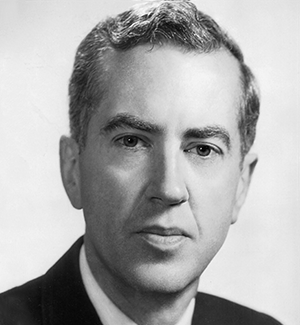 Ted Hallock was a Peabody Award–winning news radio host and successful advertising executive who found his calling as an Oregon senator. He is remembered as a passionate orator, a formidable opponent, and an innovative lawmaker, helping create some of the most important legislation in the history of Oregon.
Born in Portland in 1922, Hallock attended Grant High School. He entered the University of Oregon as a prelaw student in 1940 but enlisted in the Army Air Corps shortly after the Japanese bombed Pearl Harbor. By the time he returned home in 1944, he had flown more than thirty missions over Germany, was decorated with a Purple Heart, the Distinguished Flying Cross, and the Presidential Unit Citation.
He returned to the UO and changed his major to journalism. He organized an eighteen-piece band, with himself on the drums, wrote reviews for Downbeat magazine, was associate editor of the Oregon Daily Emerald, and was program director for KUGN radio. He graduated in 1948.
He earned the Peabody Award for news coverage by a local station for his work in 1952 with a news talk show on KPOJ in Portland. Other winners that year included Edward R. Murrow and Alistair Cooke. In 1959, claiming he was "too crabby to be anyone else's employee," he founded an advertising agency, the Hallock Agency, in Portland, which continues today as the "longest continuously operating, locally owned agency in Oregon."
In 1962, after covering elections as part of his radio job, Hallock, a lifelong Democrat, decided to run for office and was elected to the Oregon Senate in 1963. He quickly became known as the senate's best spontaneous orator; a sign on his office door designated him as "Windmill Tilter."
While then governor Tom McCall gets most of the credit for Senate Bill 100, Hallock's efforts were invaluable in passing the bill. S.B. 100, which called for every city and county in Oregon to create a land-use plan, was not without bitter opponents in a largely conservative senate.
Land laws were loosely regulated at the time, with nothing stopping developers from buying out farmland and overlooking environmental and livability concerns. McCall and Hallock, committed conservationists and well ahead of their time, used every method at their disposal to push the bill through. And, in 1973, McCall signed the bill into law.
Another progressive bill that Hallock willed through the senate was the original Bottle Bill, which the Oregon Department of Environmental Quality says has defined how Oregonians think of themselves and their environment. The bill established a deposit on bottles of carbonated and malt beverages, which has since expanded to include many other bottles and cans.
The bill was originally intended as a tool to reduce littering, and did not become an incentive for recycling until later. It was the first bill of its kind proposed in the Oregon legislature, and became one of the most intensely lobbied bills in the history of the legislature, with Ted Hallock leading the charge.
Hallock left the senate in 1983 but never really retired. He returned to advertising, and also served on the Northwest Power Planning Council, where he supported measures to restore salmon runs on the Snake and Columbia Rivers. In 1998, he conducted a weeklong interview with jazz legend Artie Shaw that spawned a thirteen-part radio biography entitled "The Mystery of Artie Shaw." The program was broadcast in seventeen public markets in the U.S. and Canada.
Steven Kafoury, a lobbyist and former colleague in the legislature, notes that listing Hallock's accomplishments can make him seem dry. "In fact," Kafoury says, "he was the most outrageous personality I ever met—blindingly bright, and hugely creative, he nevertheless was quick to realize when one of his insights or suggestions was faulty . . . his language was both erudite and profane. . . . [He was] charismatic and deeply passionate about the causes he championed." Ted Hallock died in 2006, but his contributions to Oregon changed our state forever.