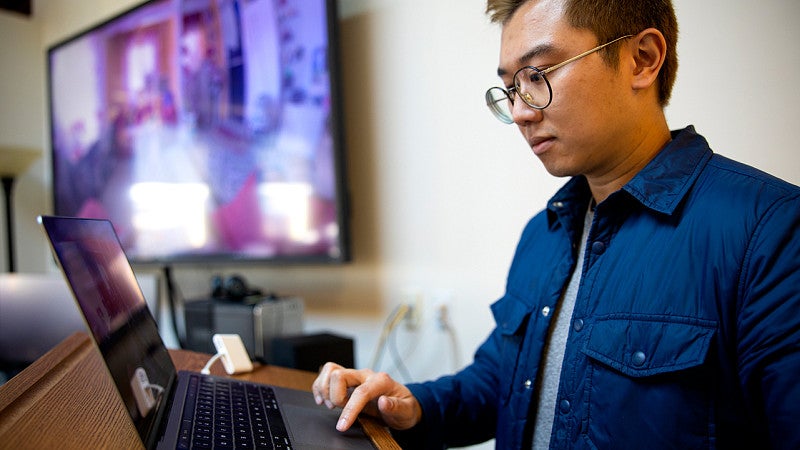 Editor's note: Enton Lok now works as a senior strategist for VMLY&R. 
Do you remember what it was like to be a kid, and how great it felt when an adult supported you? If an interactive video could help you relive that feeling, and volunteer with children, would you use it?
These are just some of the questions Enton Lok '20, a recent graduate of the UO School of Journalism and Communication's (SOJC) strategic communication master's program in Portland, hoped to answer.
He partnered with Big Brothers Big Sisters Columbia Northwest, Portland's chapter of the one-on-one mentorship nonprofit, for his capstone project.
Like many organizations, one of its significant challenges is a lack of volunteers. Lok was determined to find out how to convince people to give time to help kids in need.
"I tried to find what drives and triggers empathy," he said.
Lok began researching how to help people develop compassion and motivate them to volunteer. His studies led him back to technology when he took a class in the SOJC's Oregon Reality Lab and learned about immersive media, such as virtual reality (VR). He also found a center across the world that was able to help.
BeAnotherLab, a virtual reality center in Barcelona, Spain, hosts experiments where one person "virtually embodies" another and completes simple tasks like solving a puzzle or painting a picture.
This experience triggers strong feelings in participants that follow them even after they set their VR goggles down.
"Being immersed in another person's body can produce a lot of empathy," Lok said. "And empathy is what you need to be a volunteer."
He pitched a campaign called "Be Little Again" to Big Brothers Big Sisters. Participants could play with real building blocks, taste sweet candy and have other visceral experiences of childhood — all while being immersed in a 360-degree video.
After a few minutes in this experience, an adult character would enter the virtual space, and the possibilities for play and communication would expand. Lok hopes the feelings of connection and empathy between children and adults would grow too.
Lok said the entire campaign could run cheaply — almost like a guerilla marketing campaign with one VR headset, one TV and one staff member to help facilitate the experience. It could be mobile too, which means "Be Little Again" could travel to neighborhood events or large gatherings.
Lok believes taking the virtual experience on the road could lead to media exposure for the organization, which could also increase awareness and possibly the number of volunteers.
"That's the goal," said Lok, "to make it easier for an organization like Big Brothers Big Sisters to do good."
Originally from Macau, China, Lok recently turned his master's thesis into a full-time job as a strategist for advertising agency Twenty Four 7 in Portland. He succesfully defended his master's capstone project in March at the Oregon Reality Lab on the UO's Portland campus.
—By Tim Trainor '20, multimedia journalism master's alum