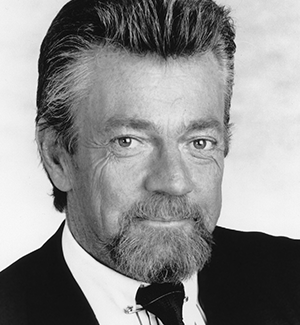 Stephen Cannell knows that for a guy who "couldn't spell no matter how hard I tried," choosing a writing career was probably a bit risky. He also knows that while his dyslexia, which went undiagnosed until his mid-thirties, caused him great difficulty, he responded well to the encouragement of UO English Professor Ralph Salisbury. And ultimately, it was Cannell's drive and vivid imagination that propelled him to fight back and succeed.
Working around, over and through what he calls "jumbled input," the three-time Emmy award-winning writer/producer, best-selling author, and Chairman of Cannell Studios has spent 35 years writing. Cannell has created or co-created more than 38 shows, including The Rockford Files, The A-Team, 21 Jump Street, The Commish and Wiseguy.
Peter Roth, president, Warner Bros. Television, says, "He's actually not only the most talented man that I've ever worked with, he's frankly one of the most prolific writers. He has a facility as a writer unlike any I've ever met."
In 1995, Cannell's debut novel, The Plan, became a national bestseller. He followed that book's success with more bestsellers: Final Victim, Riding the Snake, The Devil's Work-shop and King Con. Cannell's sixth novel, The Tin Collectors, came out in January 2001.
In 1979, Cannell formed his own production company, Stephen J. Cannell Productions. Seven years later, he formed The Cannell Studios, which excelled in production (films, mini-series, commercials), merchandis-ing, and first-run/off-network programming. It was purchased by New World Communications Group in 1995. Currently, Cannell has a variety of television and film projects lined up and other films in development with Fox 2000, Disney, CBS and Paramount Television. Cannell was the recipient of the Mystery Writer's Award in 1975 and the Monte Carlo Television Markets Showman of the Year Award in 2001.
As a spokesperson today on the subject of dyslexia, Cannell sponsored and performed in Gifts of Greatness, an educational video. Cannell says that his real fear for "dyslexic people is not that they have to struggle with jumbled input or that they can't spell but that they will quit on themselves before they get out of school."
Ralph Salisbury, poet, fiction writer and professor emeritus from the UO English Department says, "As a TV writer and producer and as an author of well-informed anti-crime novels, Steve Cannell has realized the talent I first saw in a University of Oregon under-graduate writing class. He has struggled and prevailed against dyslexia. He deserves our admiration."