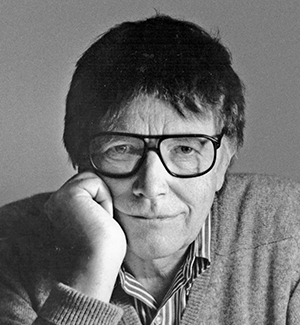 Colleagues and students alike would probably argue with Roy Paul Nelson's description of himself as a "junk man." Rather they would describe his wide-ranging expertise as absolutely invaluable to a journalism department that had just more than a dozen faculty members when he joined.
As a teacher, Nelson took on large-enrollment classes with ease and was equally successful in his publishing career. For 25 years, he wrote a monthly column on design for Communication World magazine. With more than 20 books to his credit, he became one of the nation's leading authorities on design, layout and magazines. His books The Design of Advertising and Publication Design, among others, extended his teaching from the UO to hundreds of schools across the United States and elsewhere in the world. Since his retirement in 1986, Nelson has continued to produce new editions of two of his books and remains a prominent force in layout and design.
Nelson also understood the School of Journalism from a student's perspective. He entered the university in 1941 as a freshman, but his education was delayed when he was drafted. Nelson was a lieutenant in the Navy during World War II, serving in the Pacific theater. After returning to the UO to finish his bachelor's degree in 1947, he worked as an advertising copywriter, a reporter for United Press and the assistant editorial director and district manager for American Forest Products Industries. It was with diverse professional experience that he returned to the SOJC to complete a master's degree in 1955, during which time he was also an instructor.
He modestly claimed that it was his ability to handle different subjects that led to his appointment as an assistant professor in 1957. Colleagues such as Charles Duncan, Hall of Achievement member, former dean of the school and a friend of Nelson's, would argue that his most valuable asset was not simply his mastery of journalism but his ability to communicate it.
Also, throughout his career, Nelson worked as a free-lance cartoonist and taught the course Caricature and Graphic Humor to journalism students. His cartoons appeared in papers throughout the country.
Everette E. Dennis, '64, Hall of Achievement member and former dean, says, "Roy Paul Nelson is a multi-talented, omni-competent person who was an inspirational teacher, a masterful writer and scholar who never lost touch with ordinary people, probably because of his penchant for cartooning. I first met him when I was a high school student, and his interest and support has been a sustaining influence for decades now."