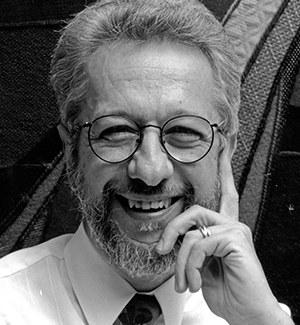 In many ways, Roger Fidler is both the pioneer and the prophet of the digital age of newspaper publishing.
Best known for developing the concept for the flat-panel tablet newspaper in 1981 and the protoype in 1991, Fidler's contributions to the industry began decades earlier. At age ten, he was a carrier for The Register-Guard. While pursuing a UO journalism degree part time in the 1960s, he began working as a reporter there. His career has included positions as reporter, feature writer, science columnist, cartographer and designer. As an independent newspaper design consultant he was responsible for the redesign of more than twenty newspapers, including the Detroit Free Press and The Miami Herald; he also published Newspaper Design Notebook, a professional newsletter.
Fidler directed the Knight-Ridder Information Design Laboratory from 1992 to 1995. He also founded both Knight-Ridder Graphics Network (KRT Graphics), the first computer graphics network for newspapers, in 1983, and PressLink, the newspaper industry's first online service, in 1985, and served as director of both organizations. In 1999, the Freedom Forum Newseum honored Fidler as an electronic news pioneer and one of history's "Most Intriguing Newspeople" in its book Crusaders, Scoundrels, Journalists.
Former classmate, colleague, and Hall of Achievement member Patricia O'Brien notes that Fidler was "always way ahead of the curve of technology." "He truly was a pioneer—and patient with those of us in the business who were slower to catch on."
Fidler has been a professional in residence and later a professor at Kent State University since 1996. Currently, he holds the first Donald W. Reynolds Journalism Fellowship at the University of Missouri. He has published dozens of articles and seven books, including Mediamorphosis: Understanding New Media, first published in 1997.