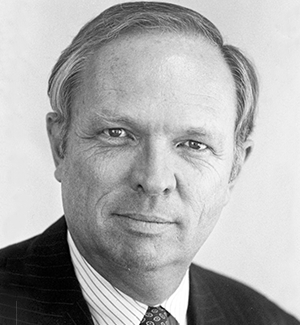 Before launching a business that revolutionized the funny pages, Robert Reed spent more than forty years learning the newspaper business from every angle.
After earning his UO Journalism degree in 1949, the former Oregon Daily Emerald staff writer moved back to the Midwest for one year as news editor for TheGoodland (Kansas) Daily News. He soon returned to the Northwest as an editor and reporter for the Spokane Spokesman-Review. He then moved into advertising sales in 1953, joining the national advertising department of The Seattle Times.
His lifelong dream of owning a newspaper came true in 1956 when he bought the San Leandro, California, Morning News. In 1958, he won an award for best editorial for papers over 10,000 circulation from the California Newspaper Publishers Association. After selling the paper in 1960, he served as a sales representative for the Hall Syndicate, during which time he traveled thirteen states selling comic strips, editorial cartoons and text features to editors throughout the West. He moved to New York to become general manager of licensing and television sales in 1968.
In 1974, he was named president and CEO of Tribune Company's syndication arm, Tribune Media Services. During his twenty-year tenure, it became the most respected syndication company in the newspaper industry, growing from $3 million in revenues to over $50 million. Reed was also responsible for expanding syndication for such writers as the Chicago Tribune's Mike Royko and CBS correspondent Andy Rooney to more than 700 clients each. TMS also distributed dozen of popular comic strips including Dick Tracy, Shoe, Mother Goose & Grimm, and Little Orphan Annie and such outstanding editorial cartoonists as Jeff MacNelly, Mike Peters, Jack Ohman, and Don Wright. Reed retired from the company in 1993.
In 1994, Reed Brennan Media Associates took an idea and a relatively new technology, desktop publishing, and began its comics pagination business, initially signing seventeen clients, including major metropolitan newspapers such as TheBoston Globe, The Philadelphia Inquirer, and the San Francisco Chronicle. Eventually, the company served 350 newspapers with daily paginated comics, including eighty-two of the 100 largest dailies in the nation.
Reed retired for a second time in 2000, selling his company to The Hearst Corporation. He continues to provide media consulting services independently.