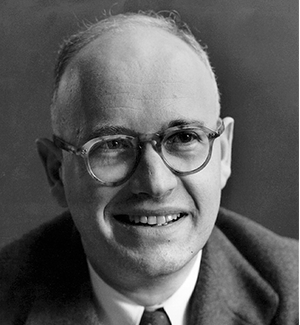 Richard Neuberger's interest in politics was apparent even in his college years at the University of Oregon. When he was a student in the 1930's, those people interested in being editor of the Oregon Daily Emerald campaigned for the position, and the student body elected him or her.
Neuberger was the first underclassman elected as editor of the Emerald, where he turned the paper into a forum for controversial campus issues.
During his tenure, there were editorials against fraternities, restrictions on smoking, ROTC and compulsory student fees. Upon graduation, he began his writing career as a sports journalist for The Oregonian. He went on to write for other national publications, including Harper's, The Saturday Evening Post, Life, Collier's and Reader's Digest.
In 1941, Richard Neuberger was elected to the Oregon House of Representatives and in 1948 he was elected to the State Senate. His political career continued when he was elected to represent Oregon in the U.S. Senate in November 1954 and took office in January 1955, where he remained a dynamic force in politics. He died in March of 1960, before the end of his first term.
He was also author of several books including The Lewis and Clark Expedition, Royal Canadian Mounted Police, Adventures in Politics — We Go to the Legislature, and co-authored An Army of the Aged and Integrity—the Life of George W. Norris.