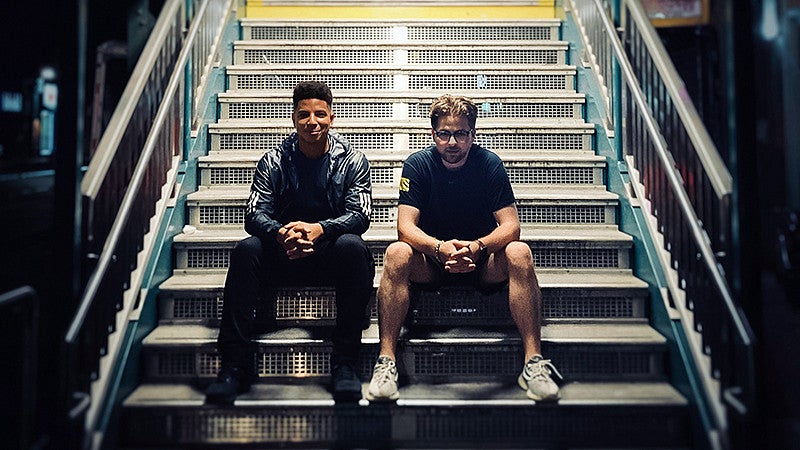 From Allen Hall Advertising to Wieden+Kennedy: How one creative team turned a friendship into a creative partnership
For students in the UO School of Journalism and Communication (SOJC) student-run advertising agency Allen Hall Advertising (AHA), campaigns are more than just school assignments. They're professional work for real, paying clients. And after spending many long nights in Allen Hall creating high-caliber work to present to clients, the agency's members often become close friends.
For SOJC advertising alumni Jacobi Mehringer '16 and Tommy Woods '16, that friendship ended up becoming a professional partnership. While working together on AHA accounts, the two found they had similar workstyles. In the spring of their senior year, the pair decided to market themselves as a creative team to potential employers.
"We tested the waters working together on a gun-violence prevention campaign, and we just clicked," said Mehringer. "Our humor is similar, which makes even the long nights in Allen Hall — and now in whatever office we work out of — so much more enjoyable. After that project came to fruition, we began legitimately looking into going out as a partnership."
Both Mehringer and Woods knew that applying to jobs as a team would be challenging, as most advertising agencies typically hire employees right out of university for individual positions. Nonetheless, the pair felt strongly about upholding the creative dynamic they shared, and they were willing to take the chance.
"Some thought it was a good idea, some thought it would be better to go out individually, especially when we were fresh to the industry. At the end of the day, we did what we thought was best," Woods said. "During one of the SOJC's New York Experience trips, we interviewed for an internship at an agency that suggested we build a joint portfolio site. After the interview, we went to a coffee shop and spent four hours creating our first site. It's been updated a dozen times since."
As a creative team the pair plays off each other's backgrounds and skill sets. Mehringer works as an art director and Woods is a copywriter, which allows them to come up with different ideas based on their experiences and interests. Woods is an adopted-at-birth Afro-Brazilian who grew up in Eugene, and Mehringer identifies as a member of the LQBTQIA+ community and grew up moving around the country in a military family. The two also have overlapping interests in art, culture and technology.
The next challenge for Mehringer and Woods was finding an ad agency that wanted to hire the two of them as a team right out of university, since they were still relative unknowns.
"Even outside the SOJC, a lot of agencies were interested in us individually but weren't sold on the idea of us being in a partnership right out of college so young," said Mehringer.
As their peers were getting job offers, the creative team stuck by each other and ended up getting an internship offer in June 2016 from SS+K, an ad agency in New York. The pair also worked at MRM/McCann and Johannes Leonardo before landing their current position at Wieden+Kennedy, where Mehringer works as the art director and Woods is a writer.
Mehringer and Woods have worked on some big accounts together. While at Johannes Leonardo, the pair collaborated on campaigns for Adidas x Stan Smith and Madden. At Wieden+Kennedy, the pair recently worked on a Super Bowl campaign called "Superior Bowl" for Michelob Ultra.
The pair acknowledges there were struggles when they first started out as a creative team, but now employers see it as a strength that they have continued to work together for seven years.  They always interview together and take jobs together, and they work well as a team.
Do they recommend their partnership approach to other SOJC students? Yes, but they would encourage them to go into it with an understanding of the inherent challenges.
"Don't be afraid to work at making a partnership work when challenges come up," said Mehringer. "It took Tommy and I four years to find our groove to the point where we're efficient, calm and having fun."
—By Alli Weseman, class of '22 and Lauren Tokos, class of '24
---
Alli Weseman (she/her/hers) is a second-year student in the SOJC's Multimedia Journalism Master's program in Portland. She has freelanced for Portland Monthly Magazine and now works as a multimedia specialist.
Additional writing provided by Lauren Tokos (she/her/hers), a third-year majoring in media studies with a minor in commerce and society. She is also a student in the Clark Honors College and member of the Wayne Morse Scholars Program.