Story by Jack Fisher and Patty Torchia
Photos by Jeff Collet
Journalism faces a profound crisis. With an onslaught of divisive rhetoric, the substrate on which we receive our news has become fragmented and muddled with emotion, agenda and ego. Social media and new media platforms have repositioned legacy news organizations on the informational totem pole, causing consumers to interact with news and one another in novel and evolving ways.
As journalists, it is our job to be stewards of this dynamic and unpredictable interface. It is our responsibility to focus on healthy, constructive communication that fosters authentic engagement and genuine, positive interactions. At the core of this ethic of healthy communication lies a commitment to listening.
We entered the Multimedia Journalism Master's program in fall 2018 from very different backgrounds. Patty arrived after working for years as a journalist with Italian television, and Jack brought experience in environmental writing and the outdoor and renewable energy industries.
We were both moved not only by the essence of the Agora Journalism Center's Listeners Podcast, but by the medium of audio. So we decided to apply to work as producers for the Listeners Podcast. Our goal was to learn about podcasting from experienced professionals, get involved with some interesting interviews and advance the missions of both the podcast and the UO School of Journalism and Communication's Agora Journalism Center.
Andrew DeVigal, SOJC professor of practice, Chair in Journalism Innovation and Civic Engagement and host of the Listeners Podcast, hired and leads us. With the addition of Alex Ward from podcast consultant company Sounds Like Pictures, our team was assembled.
We started by compiling a list of potential guests, including authors, professors, journalists and tech executives. We researched people on the cutting edge of modern journalism and communication by watching TED talks, reading book reviews and scouring other podcast episode lists looking for ideas.
Over our first few months, we interviewed some of these credentialed guests. And in April, we got the opportunity to meet some of them when we traveled to the International Journalism Festival in Perugia, Italy.
Very quickly, it became clear that we were talking to listening innovators. Interview topics at the International Journalism Festival included cryptocurrency, blockchain, tech to aid in journalism community engagement and how all of these ideas intersect with listening and healthy dialogue. We learned about projects, companies, initiatives and programs committed to improving the information ecosystem by improving the way we interact with one another. And we met some brilliant minds along the way. We also ate some great food!
Upon returning from Perugia, these academic and philosophical ideas were fresh in our minds. We had learned so much from the people we interviewed there, and we naturally continued to explore the power of listening through that theoretical lens. We sought more experts and leaders in the field. We talked and thought about big ideas, and we continued to learn from our interviewees.
Looking to grow the show, we spoke about the podcast to friends and classmates and were eager for guest suggestions or other ideas. Much to our surprise, one guest changed the course of the show with a simple comment. He said, "I've never been really listened to."
Matthew Olson works in the medical field in Portland. He grew up in Minneapolis, Minnesota, in a strict Jehovah's Witness family, and adhered closely to the teachings and doctrines of the religion. He attended regular meetings, was diligent in his Bible studies and surrounded himself with a community of other members of the faith.
But as he grew older, Matthew realized he was gay, and he struggled with his sexuality. His sexual orientation was incompatible with his religion, and he felt a great deal of shame as a result. He tried to stifle his conflicted feelings by doubling down on his commitment to his faith. He studied harder and turned to the Bible for guidance — but to no avail.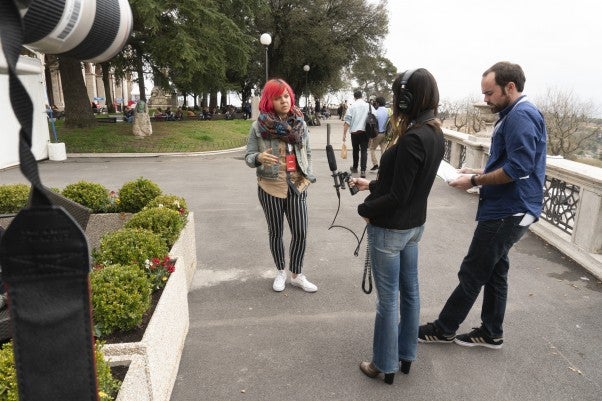 When he found the courage to share this fact with his family, he was not met with support. His community shunned and demonized him. They condemned his identity and tried to "cure" him of his feelings. During this period, Matthew felt even more alone.
Eventually, Matthew found an opportunity for a job in Portland. Feeling ostracized by his family back in Minneapolis, he took the opportunity to move across the country to start a new life. It was here that he found a supportive community of people who accepted him for who he is. For the first time, he felt listened to. And — perhaps most important — he realized he had found this new community by listening to himself.
Matthew's story was pivotal for the show. We were touched by his willingness to share so openly with us and moved by his ideas about not only listening to others, but listening deeply to oneself.
Our conversations with listening innovators in journalism and academia were extremely valuable, and we hope to have more of them. But Matthew's story inspired us to look in more unlikely places and to explore the role listening plays in everyone's life. As producers, we now seek more guests with personal narratives. Matthew taught us how listening has changed the lives of those who understand its power.
Season 2 of the Listeners Podcast is well underway. Drawing on what we learned from our conversation with Matthew, we've broadened our approach to exploring listening and have been getting creative with our guests.
For our next round of episodes, so far we've discussed issues surrounding competing interests on Southern Oregon's public land with Gabe Howe, executive director of the Siskiyou Mountain Club. We've talked negotiation and communication with Gary Noesner, author, consultant and former FBI hostage negotiator. We've also learned about community building with Chris Nye, a pastor who served in San Francisco's Tenderloin neighborhood.
And we're exploring different interview structures, using producers to facilitate some of the conversations, and possibly episodes with multiple guests.
Our team continues to listen. If you know of someone who might be willing to share their story about the power of listening, please reach out to us at listenerspodcast@uoregon.edu.
---
Jack Fisher is a Multimedia Journalism Master's student in Portland, Oregon. He earned an undergraduate degree in geography from the University of Colorado Boulder and worked in the outdoor and renewable energy industries before returning to school to pursue a career in storytelling.
Patty Torchia is a Multimedia Journalism Master's at the University of Oregon. Her experience includes writing, producing, anchoring, live reporting and editing for major national networks and publications in Italy, Brazil and the United States.
Jeff Collet is going into his second year as a graduate student in the SOJC's Portland-based Multimedia Journalism Master's program. He has been a content creator for the SOJC Communication Office in Portland since November 2017. Jeff studied visual communication design as an undergraduate at Western Oregon University. Prior to that, he served over nine years in the U.S. Army and Army Reserves as a combat photographer/videographer and multimedia illustrator. See more of his work at jeffcollet.com and follow him on Instagram @colletasyouseeit.