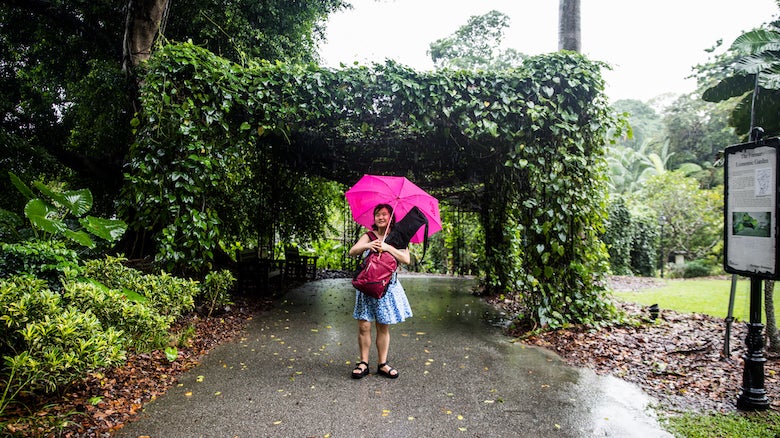 By Kezia Setyawan
It's not too early, the sun is up and the heavy heat hasn't smothered the house yet. There's Mie Sua on the table, with thin, brittle rice noodles soaking up broth topped with an over-easy egg. 
I write this knowing it's considered cliché to begin a story with food, especially in diaspora writing. However, the meaning of "mie sua," is a microcosm of Chinese immigration and heritage in Southeast Asia. My story must begin there because it symbolizes the adoption of Chinese food, like noodles from Fujian, adheres to local Indonesian cuisine, like abon.
This winter break, I spent a month in Indonesia and Singapore, gathering photos and interviews from family and friends for my thesis. My work focuses on how politics and migration affect Chinese-Indonesian name, family and identity. I want to explore how personal narratives support or create tension in academic work.
I also want to understand how the infliction of trauma on marginalized communities manifests, which lead to families internalizing oppression that gets passed down for generations.
Some interesting aspects arose from the interview process, like not being able to communicate nuances in questions from English in Indonesian. To combat this, my patient sister sometimes led interviews because my hardheadedness opened windows for missteps. The process reminded me that vulnerability from my subjects needs to be earned and not demanded.
Other times, interviews were productive and insightful, teasing out conversions on ancestral worship to Christianity. We discussed how one's identity is affected when you and your family are outsiders, even though it's been four generations from the first migration.
This work matters to me because being Chinese in Indonesia creates a unique dynamic. Not only because of the divide and conquer colonization techniques used by the Dutch over 350 years ago, but also how interactions between different ethnic communities and environments shift the meanings surrounding identity, like faith and filial piety, or the duty and responsibility that reflects in care for one's parents.
I have a sense of urgency to do this project now, while my grandmothers are still alive. They hold the knowledge of how things have changed and stayed the same. I came into this trip wanting to ask questions like: What stakes do I have to this homeland? Do these ties end when my grandmothers pass away? What happens when no one is left to take care of the family grave?
The cemetery is in the center of the city, where weeds and other plants overgrow our family's plot. My grandmother says the city might have to build here to accommodate the vast population in the area. She sounds like it's inevitable, like how the waves always crash on the coastline.
I call my grandmothers "Oma," which is a carry-over of the Dutch colonial legacy in Indonesia. In an instant, I've seen Oma Lana's hair turn white, her feet drag a little longer, yet her stubbornness still intact. My Oma Titin is bedridden and recovering from a fall. In contrast, her smooth hands sit beside her legs. I've only seen them age in snapshots of the brief visits we had over the years.  
I'm extremely grateful to the School of Journalism and Communication, as well as the University of Oregon's Undergraduate Research Opportunity Program, for financially supporting this trip. The last time I went to Indonesia was right before I began college. It was full circle to return in my final year of school.
There are a few other moments I hold close. Like pinpricks lining the back of my leg from mosquito bites, and the constant reopening of scabs due to the lack of my self-control. The slowly decaying bathroom, the mint green paint peeling after 70 years, after washing yourself with a plastic bucket of water.
I can't imagine living in the same place for most of my life, a reality I don't share with my grandparents.
I picked up saying "da" as a goodbye, much to the annoyance of my sister. During the vacation component of the trip, a monkey jumped my sister and stole her glasses. It was only funny to me. I also exacerbated my ice chewing habit, my solace from the humidity.
As the world continually shifts with the pandemic, some things about my project need to change. For example, instead of showing my work in an art gallery at the EMU as I envisioned, I will be showcasing my photos on Zoom. There are times when it is upsetting to know I won't have a physical manifestation of the work I put into this year. However, this is a great opportunity to have an accessible gallery online and livestream the event back to my family.  
---
Kezia Setyawan is a senior at the University of Oregon majoring in journalism and minoring in business and creative writing. Her work centers on amplifying voices of people at the margins through photography. She enjoys watching hockey games, bread, and reading horror movie wikipedias.