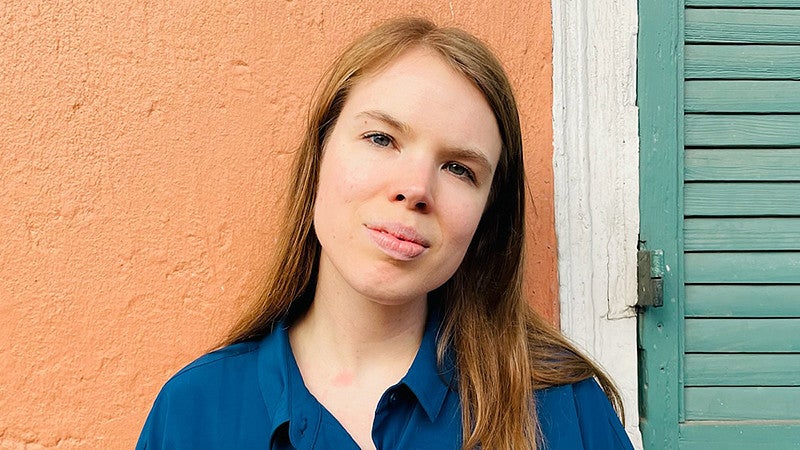 With a long-standing passion for public health and social change communication, Maeve Connor '22 has channeled her interests into the Portland-based Strategic Communication Master's program and nonprofit communications.
Connor is a communications specialist at Central City Concern (CCC), a Portland-based nonprofit that "helps those struggling with life's biggest problems to end or avoid homelessness and build healthy, housed, resilient and engaged lives," according to their mission statement.
Connor weaves her professional and academic endeavors together with her strategic communication capstone, which she is using to help fill a key gap she identified in CCC's current advocacy work.
"[At CCC], we engage in advocacy on a local level, a state level and on a national level, but we haven't really engaged the general public in advocacy," Connor said.
Connor observed that the public is often concerned about houselessness, but they do not have the information they need to be effective advocates for change. So, for her master's capstone, Connor is developing strategies for CCC to engage the public in advocacy related to houselessness and inform them about underlying causes and evidence-based solutions.
"People often think that there's no way we're ever going to end homelessness," Connor said. "But the thing is, we do know how to end homelessness. This is something that people research, and we know what works to get people off the streets."
CCC's approach is a comprehensive one that "addresses both the systemic drivers of homelessness and the individual factors that can reinforce it," according to its website. The organization provides an array of services, including affordable housing, pathways to employment, counseling and treatment for substance use disorders. It also strives to build community among clients and employees. In fact, many employees are past clients of CCC.
Connor's work at CCC is similarly broad, ranging from promoting events like the annual fundraising event Compassion in Action to managing the organization's social media accounts.
One of Connor's favorite parts of the job has been sharing stories of success, including writing content for the blog series Road to Recovery. In a recent piece, Connor told the story of Nichole, who has benefited from CCC's addiction services, counseling and low-income housing. She recently started working for Central City Staffing, an arm of CCC that provides job skills training and work experience.
Connor notes that these stories are not only heartwarming but also provide a more hopeful perspective on houselessness.
"A lot of the work we're doing is just showing the public that these positive things are happening, that the situation is not hopeless," Connor said. "In my work, I interact all the time with people who were homeless, and they're not anymore."
Connor has especially benefitted from graduate courses taught by professionals currently working in the field. She particularly enjoyed Crisis Communication, taught by Brian Terrett, formerly of the Public Relations Society of America, and Social Change Communication, taught by Erin Hart, chief innovation officer at Spitfire Strategies. The latter course is particularly relevant to Connor's current role at CCC.
"That class was so helpful for anyone who works in the nonprofit sector," Connor said. "Some of the tools I learned about from that class, like the Spitfire Strategies Smart Chart, are things I continue to use in my work."
Overall, Connor feels her education in the strategic communication program has helped her take her work to the next level.
"All my classes have helped me think about strategy: slowing down and really thinking about what you're trying to accomplish instead of just go-go-go like you see in a lot of communications jobs," Connor said.
–By Jenni Denekas, '22
Jenni Denekas, class of '22, is a Multimedia Journalism master's student and the content strategist at SOJC Portland. Connect with her on LinkedIn.