By Tim Trainor
A short documentary produced by an SOJC student is turning heads at local film festivals — and at Portland City Hall.
Multimedia journalism master's student Cecilia Brown presented her student work, "Root Shocked," to a packed audience at the Vanport Mosaic Film Festival in May.
The film follows Cleo Davis and members of his family, who are working to empower the black community of Northeast Portland. That community was damaged both by the Vanport Flood of 1948 and decades of institutional racism in Portland government that both preceded and followed the event. In an attempt to right old wrongs, the Davis family purchased a blighted, historic property and won city approval to move it to an area where the city of Portland demolished black-owned homes in the 1980s.
Brown's cameras were there to capture each step of their journey.
Brown first heard about the story from an Oregon Public Broadcasting radio story in January 2019. She was on the hunt for a film project idea to satisfy a class assignment as she works toward her master's degree in multimedia journalism. After hearing the story and then meeting the Davis family, Brown realized her hunt was over. 
"I was struck by Cleo's account of the generational loss of property and wealth experienced by his family due to Portland's racist policies in the 1980s, and his efforts to share this story with the community through art," she said. "Given that the house move was set to take place in a week, I knew this would also be a good visual story."
The story offered plenty of complexity — with historical antecedents, various characters, divergent storylines and crucial moments. Capturing it all and distilling the essence of the story pushed Brown in new directions, developing both her technical prowess and her narrative storytelling capabilities.
"It was certainly a learning experience, considering this is the longest piece I've produced to date," she said.
In order to capture the dramatic house move, Brown had five cameras rolling and a four-person student team in place. She even convinced construction crews to place cameras on their machinery to get video from above.
She then followed the Davis family as they decided how to use the property and how to navigate city regulations. 
In July, Portland mayor Ted Wheeler, who was interviewed for the film, shared the finished project via his social media accounts. 
"Powerful documentary on the history of generational loss and racial disparity in Portland," he wrote on Twitter. "This is the story of the Mayo House. This is the story of Cleo Davis and his family. Poignantly directed by Cecilia Brown. "
Brown said she was excited by the shoutout, which brought more eyeballs to her film, as well as the emotional reaction of audiences at Vanport.
"It was an honor to have the film screened at a festival that celebrates the history of the black community in Portland, and see it become a small part of this larger conversation about equity and race in a city that has too often excluded this community," she said. "There was a big turnout for the screening, which was such a joy and a surprise, but also unnerving — it was the first time I'd screened a piece in front of a crowd! I was too nervous to sit down, so I stood at the back of the room for its entirety to watch everyone's reactions."
Brown said being part of the UO multimedia journalism program was critical to bringing her project to fruition.  
"Our classroom critiques were what pushed this film to become better, and deadlines kept me on track to pull it together in just a couple of months," she said. "When I joined this program in September, I knew only the basics of storytelling and video production. Over the last year I've learned so much from my professors and classmates — from thinking critically about story structure and arc, to setting up interviews and recording proper audio. The program has made me realize how much I love to tell stories, and I look forward to telling more."
---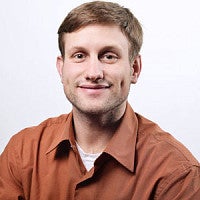 Tim Trainor is a journalist and multimedia journalism master's student at the UO School of Journalism and Communication in Portland. He also works with EO Media Group and freelances for publications throughout the Northwest.