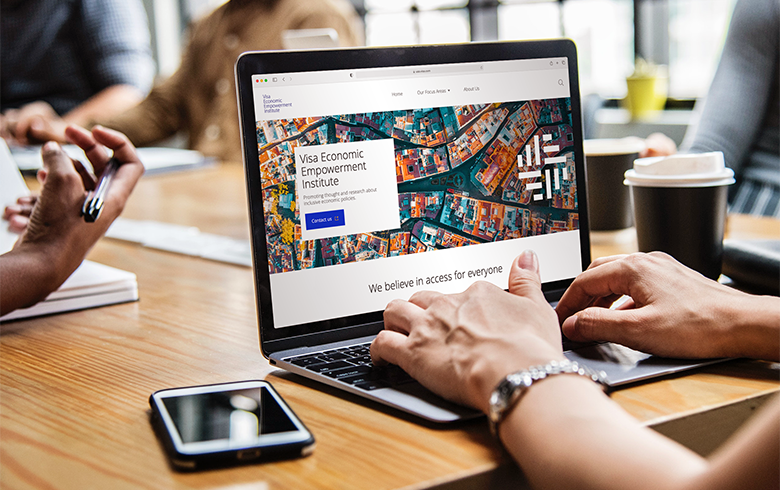 The Visa Economic Empowerment Institute redesigned their website (pictured) based on recommendations from public relations students from the class of 2021.
Collaborating with the C-suite of a major company as a college senior might sound like a dream — albeit a daunting one. But five students in the public relations program at the School of Journalism and Communication (SOJC) did just that in spring 2021.
Miranda Davis, Kenzie Hudler, Sydney Kelly, Claire Pulkownik and Hayley Williamson — all members of the 2021 graduating class — built a multipronged brand strategy for the Visa Economic Empowerment Institute (VEEI) as part of their capstone Public Relations Campaigns course. Taught by Dean Mundy, director of the public relations program, this class connects students with real-world clients.
"[PR students] come into the class with tools and abilities that we've developed throughout the program's writing, planning and research methods classes," Mundy said. "Then they get to hone the client relations part of PR and become more confident in the fact that they're the expert, they bring a skill set and they bring a set of fresh eyes to it."
This PR team had the opportunity to collaborate with a core group of Visa executives, including Barbara Kotschwar, executive director of VEEI and adjunct professor at Georgetown University; Todd Fox, head of global policy at Visa; and SOJC PR alumna Anna Sanford '06, vice president of global government engagement at Visa.
"It was inspiring to see [Sanford], who was once in my shoes, doing this amazing job with this huge corporation," Davis said. "It was also heartwarming that she was still interested in working with undergrads and giving us that opportunity."
Moreover, this team of executives was eager for a fresh perspective and recognized the value of consulting with students.
"As a professor myself, I'm always inspired by the perspectives that students bring," Kotschwar said. "They help me refine and reframe ideas. We recognized that this collaboration could be an opportunity to pressure-test our thoughts with an audience that doesn't eat, breathe and sleep payments policy."
While their classmates focused on creating deliverables for their clients, Davis, Hudler, Kelly, Pulkownik and Williamson clarified the newly founded VEEI's positioning in external communications.
"[VEEI] had done a soft launch, and there wasn't a lot of buzz happening," Pulkownik said. "So first, we tried to understand what they wanted their key message to be and what their audience perceived their key message to be."
With guidance from Mundy, the PR team researched VEEI's audience and competitors, conducted a survey to better understand user experience of the VEEI website, and identified key channels for reaching target audiences. They presented their findings to the executive team and refined their strategy over several weekly meetings.
"This was a great opportunity for each team [VEEI and SOJC] to clarify goals and ideas through discussion and collaboration," Sanford said.
This collaborative process culminated with a remote presentation for a larger audience of Visa executives. The SOJC team recommended that VEEI "create social, video and audio channels and content" to broaden their reach and increase their appeal to new audiences. They also suggested increasing the representation and inclusion of diverse communities in VEEI's communications to reflect the institute's overarching goals of supporting equitable economic systems.
"[This team's] work had the sophistication and quality of working with a PR firm," Fox said. "They convinced us to make key adjustments and helped us to prioritize what would most effectively reach our audience."
A number of these changes have been implemented by VEEI, including a recent website redesign that prioritized visual impact and representation of people of color. The PR team and Mundy were thrilled with the news that their input had a tangible impact.
"It feels good to know that all the tireless work we put into this project is paying off," Kelly said. "This project has made me sure of myself in settings where people may not hear what I have to say at first, but I know what I have to say is important."
Kelly's teammates also cited several important lessons from this capstone project that they are carrying into their professional lives.
"What I learned about communicating with higher-ups in a big organization and creative collaboration have prepared me for the job that I have now," said Hudler, who now works for LEWIS Global Communications. "I don't think that I would have had that opportunity in just any PR program."
—By Jenni Denekas, class of '22
Jenni Denekas, class of '22, is a Multimedia Journalism and Strategic Communication dual master's student and the communications and events assistant at SOJC Portland.