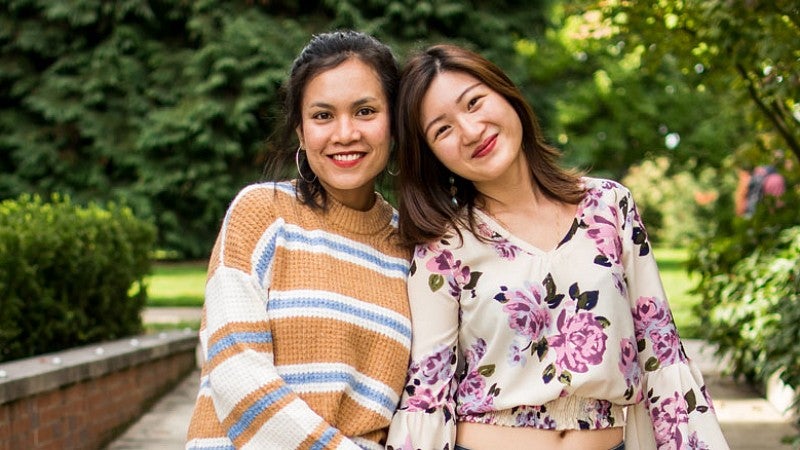 Growing up in Thailand, Kay (Karikarn) Chansiri and Ping (Thipkanok) Wongphothiphan bonded over Harry Potter. In the 20 minutes before school started each day, they built a friendship upon conversations about Goblet of Fire.
Since graduating high school, their educational pursuits have taken them around the world—from different parts of Thailand to England to the United States. Yet 15 years later, the two SOJC PhD candidates remain best friends as they continue their research side by side.
"I think it is good to have a friend, like a real friend," said Kay, who is studying the influence of social media on young adults. She is considering how brain functions impact an audience's engagement with social media, which can then affect how the viewer forms their own body image.  
Throughout her time as a PhD student, Kay's interests have evolved to include media psychology, health communication, and media and brain functioning. In addition to her SOJC research, Kay is pursuing a Master of Science in Prevention Science, which has allowed her to delve deeper into neuroscience.
 "I think that's one of the really nice things about having an education is you know you have one set of interests but then they can evolve as you learn more," said Ping, whose interests also lie at the intersection between media and health.
Ping's research focuses on health communication, specifically promoting positive physical and mental health behavior. She hopes to raise awareness of the consequences behind certain health choices and help combat vaccination hesitancy by creating a virtual reality simulation that would allow parents to see the future that may or may not occur based on their decision whether to vaccinate their children.
It was their shared interest in health communication research that led the two friends to become Ducks. After parting ways to pursue separate undergraduate programs in Thailand, they reunited in England, where they became roommates and attended graduate school together. When their faculty advisor suggested they look for research opportunities in the U.S., they were drawn to the SOJC's supportive environment and the UO's opportunities for cross-disciplinary research. They also considered other factors such as qualified faculty members, funding, the region's beautiful nature, and their ability to join the same program.
Kay and Ping both credit their advisor, Autumn Shafer, with helping them lay the groundwork for their future success. In addition to guiding them on which classes to take, how to plan their careers, and what research projects to pursue, Shafer has also become a close friend.
 "I would say that I've got a very great and excellent advisor, which I think is a major thing that can indicate if a PhD student will be successful in the job market or not," Kay said.
The three women are currently exploring Instagram use among female students and its impact on body image. Despite efforts to promote positive body image on social media, idealized media messages can negatively affect young women who are striving to fit certain cultural standards. These negative feelings can then bleed into their sexual activity, causing them to compromise on sexual health. Their study ultimately unpacks the underlying psychological mechanisms at play when a female student interacts with Instagram and how her feelings after that interaction can have a larger impact on her life.
Pursuing an education across several different countries has helped both doctoral candidates broaden their interests while also laser-focusing their passions.
For Kay, it has allowed her to identify certain minority groups that are underrepresented in health research; she hopes to serve as a voice for these groups and help improve public health so that it integrates the needs of these ethnic minorities. For Ping, it has allowed her to understand the cultural lenses present in each country, which has sparked her desire to understand people on a deeper level by studying social psychology.
"Anybody who wants to go into the graduate program should find their true passion, but also be open to new things that will allow them to learn and grow," Ping said
However, it's important not to let passion eclipse self-care, Kay cautioned.
 "No matter how passionate you might be about your education and career path, I think it is very crucial to not forget about your personal life," she said.
Kay and Ping's shared interests have evolved since those early discussions about Harry Potter before school. But after traveling the world and pursuing their educations together, these two PhD students are closer than ever.
---
Kyra Hanson is a senior majoring in public relations within the SOJC. She is an account executive for Allen Hall Public Relations and vice president of the UO chapter of the Public Relations Student Society of America (PRSSA). After graduating, she plans to pursue a career in strategic communication with a focus on the health sector. In her spare time, you can find her exploring with her pit bull Juni or frequenting coffee shops around town.