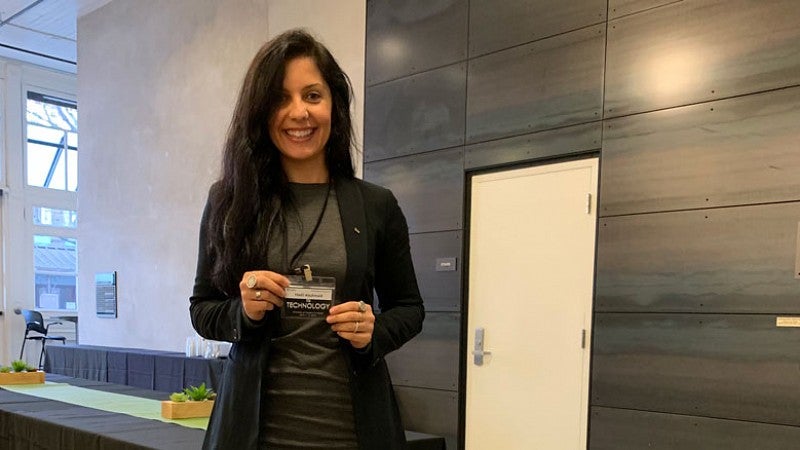 Hadil Abuhmaid wants to change the way you see Palestine.
This media studies PhD student recognizes cinema as a medium capable of telling powerful stories about national identity and culture. But as a stateless nation, Palestine poses a challenge for the cinema world. The dispersion of the Palestinian people has resulted in film productions from politically fragmented regions within the historical map of Palestine — West Bank, Gaza Strip, Jerusalem and Israel — in addition to films from the Middle East, the United States and Europe.
"My goal is to examine the formation and self-representation of the Palestinian national identity in Palestinian feature films produced within the historical map of Palestine by researching their production, audience and aesthetics," Abuhmaid said.
Though born in Jordan, Abuhmaid grew up in Ramallah, Palestine, where she earned a bachelor's degree in journalism and political science from Bir-Zeit University. There she co-founded Filmlab: Palestine, a nonprofit whose goal is to empower Palestinians to tell their own stories through film. While pursuing a master's degree in nonprofit management at the UO, she took classes in the School of Journalism and Communication and decided to apply for the media studies PhD program.
Abuhmaid centers her research on national identity, national narrative and representations in film, with a focus on Palestinian filmmaking.
"I'd like to highlight the uniqueness of the Palestinian cinema in the field of research and expose my future students to different points of views about identity and representations," said Abuhmaid. "As Palestinians, the media usually depicts us in a negative way. I want to change that."
Faculty advisor Gabriela Martínez praised Abuhmaid for the insight and passion she brings to her work.
"Hadil's research will shed light on key aspects of the Palestinian film world, shedding light on the political, economic and cultural implications of film production and distribution in Palestine as well as in other countries where Palestinian filmmakers live due to migration or forced exile," Martínez said. 
Outside her research, Abuhmaid is active on campus as a board member for Creating Connections, a student group that strives to build connections among graduate students from underrepresented communities.
"As graduate students, sometimes we forget how important it is to have a social life outside our academic field," she said. "That's why we aim through our social events, three a year, to create a networking opportunity for graduate students all over campus to share their experience, hear each other and assure them that we're all in this together."
After graduation, Abuhmaid aspires to become a college professor and continue her research on cinema, diasporic studies, representations and national identity. In the meantime, she's laying the groundwork for future explorations of cultural and national identity formation and representation within the Palestinian diasporic communities.
---
Randy Newnham, a recent public relations grad, would rather be pulling espresso shots and playing board games. But the world needs at least one more strategic communicator, and Randy has risen to the challenge. Together, with the plucky band of underdogs that is his family, Randy fights dirty for social justice. Randy can be found on Twitter, Instagram, LinkedIn and in various coffee shops around Eugene.