The importance of networking in college takes on real meaning for graduating students as they hunt for a job. In the case of three graduates of the UO School of Journalism and Communication (SOJC), they all went to work for the same company — Portland-based media production agency Blue Chalk Media — but relied on different ways of networking in college to do it.
Networking works for internships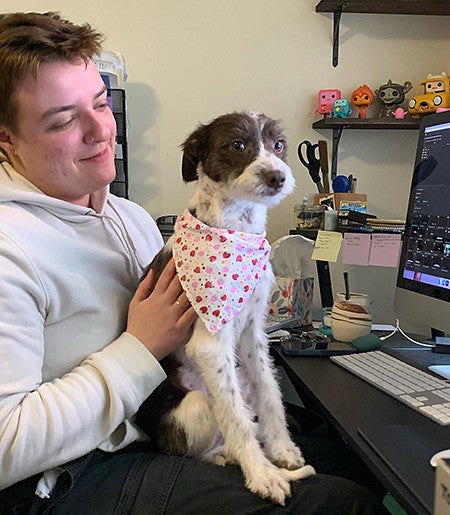 Ian Miller '21, a graduate of the UO SOJC journalism program, had their eye on Blue Chalk since their first year of college. Now an associate editor at the company, as a student Miller consistently checked in with people they knew at the company and read its newsletter to look for internships.
When an internship on the post-production team opened in 2021, Miller got to work securing it. They first reached out to a fellow alum who recommended they talk to Blue Chalk Senior Producer Natalie Taylor. Taylor offered to look through their resume and reel to give tips to help Miller secure the internship. She recommended Miller for an interview, and the hiring managers were so impressed with Miller's knowledge of Blue Chalk's file management and organization methods that they hired them for the internship.
It turns out that Miller learned the file management method at the SOJC from a Blue Chalk employee: Editor Maria Kjellstrand, who spoke in Miller's Science & Memory class about efficient editing.
"Having people come in and show you how it's done in the field is definitely a different learning experience than being taught in a classroom," Miller said.
After the internship ended, Miller's supervisors hired them full time as an associate editor working on smaller projects. Miller has since taken on assistant editing for some of Blue Chalk's larger projects, such as the climate documentary "Solving for Zero" and Season 2 of the Magnolia Network show "Growing Floret."
Professors are great for networking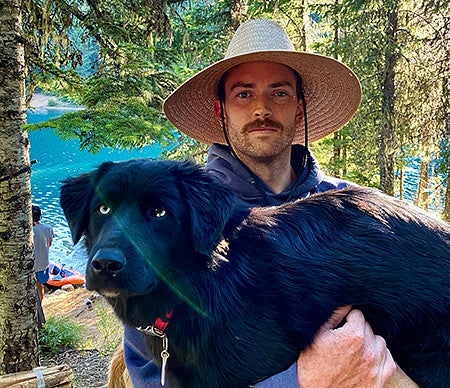 Jesse Crowell '14 was freelancing when a former classmate, Julianne Parker, a producer for Blue Chalk, reached out to him because Blue Chalk needed extra hands on a project. SOJC Professor of Practice Torsten Kjellstrand had recommended the journalism alum to Blue Chalk Creative Director Rob Finch.
Blue Chalk loved Crowell's work and brought him in house after the project's completion. He is currently an associate creative director.
"Blue Chalk is really great about bringing people in that are straight out of school and giving them the room to grow," Crowell said. "There are a bunch of UO students that are still with the company or who started their careers and then have gone off to do bigger stuff. It's amazing to have a relatively local pipeline of talented people who are being taught to do things in a similar way we're doing things here at Blue Chalk."
Network with an in-house alum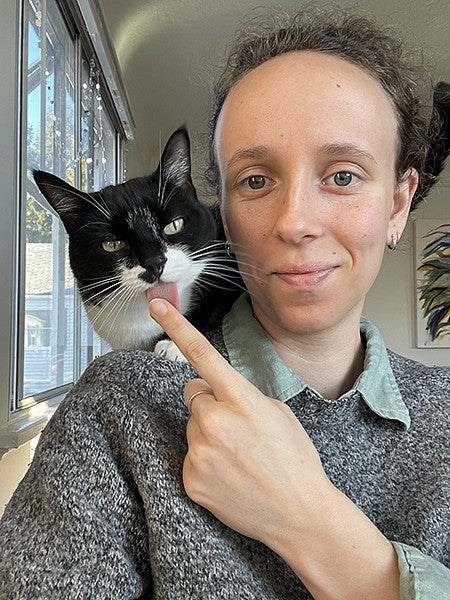 While Miró Merrill '16 had heard about Blue Chalk while at UO, she didn't think they hired graphic designers.
"I thought they only hired editors and producers," Merrill said. "But then I reached out to Maria Kjellstrand, who … I knew from an SOJC project, and spoke to her about Blue Chalk, and they did have a need for designers."
Merrill didn't take a direct route to getting an internship. Instead, she connected with a freelance designer who worked for Blue Chalk, who then helped Merrill land an internship. And, as is often the case for SOJC grads, she was offered a full-time position after the internship ended.
"Neither I nor Blue Chalk understood their need for a full-time designer until I was on the team," Merrill said.
While in school, many SOJC students learn a lot about the fundamentals of production, get comfortable using a camera and practice using the Adobe Creative Suite. But it's on the job where they enhance those skills and become bolder and more confident in their work. Local production companies like Blue Chalk understand how to cultivate the potential of students who have gained a solid foundation from their courses and experiential learning at the SOJC.
"The SOJC provides a ton of networking opportunities and opportunities to listen to people in different industries speak about their work, which helps you learn what you may be interested in and what jobs to pursue," Merrill said.
While everyone's route to their first position out of college is different, graduates of the SOJC know the importance of networking and how the connections they make with professionals in the field can open doors to the entry job of their dreams.
—By Alli Weseman '22
Alli Weseman (she/her/hers) is a second-year student in the SOJC's Multimedia Journalism Master's program in Portland. She has freelanced for Portland Monthly Magazine and now works as a multimedia specialist.