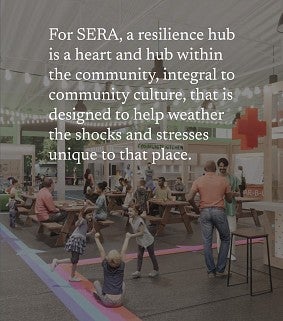 It's fitting that Meredith Floyd-Preston '23 teamed up with an architectural firm for her capstone project en route to her master's degree in strategic communication. As she recounts the experience researching, developing and crafting her comprehensive communication plan for the architectural firm SERA, she stresses the importance of a sound blueprint.
"Working on this project taught me how much effort and intention is necessary at the beginning of the project — setting the goals, establishing the key results and identifying how you're going to measure them," said Floyd-Preston, a former teacher who stepped away from the classroom to further her own education. "As a writer and creator, my tendency is to jump in and start crafting content, but the biggest lesson I learned is that to be effective, content needs to be founded in strategy."
SERA Architects is a sustainability-committed firm that has carved out a niche focusing on "resilience hubs" — community-serving facilities designed to support area residents by coordinating communication, distributing resources and reducing carbon pollution in response to climate change.
Floyd-Preston used the expertise she developed at the UO School of Journalism and Communication in Portland to craft a thoroughly researched and sharply presented plan advising an array of multimedia communication tactics to build awareness of such hubs — among other goals. In keeping with the firm's values, the plan is both attainable and sustainable.
"Throughout the program, our coursework focused on the strategies behind the various communication methodologies we explored," Floyd-Preston said. "By understanding the strategies and how they aligned with business goals, we saw that marketing campaigns and other communications methodologies are more than just pretty websites and clever slogans."
As the architect of her future, Floyd-Preston remains committed to an academic, professional and personal growth mindset.
"It's taking my career in directions I never could have anticipated," Floyd-Preston said. "Understanding how to set goals and strategically accomplish them is an incredibly valuable skill, whether you're working in the boardroom or the classroom."