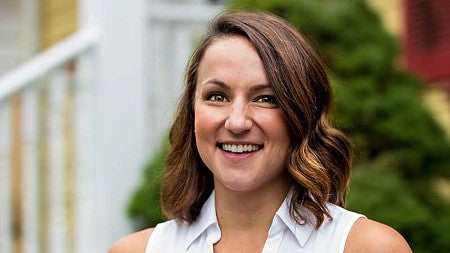 Story by Eric Schucht
Hometown: Tooele, Utah
Primary research interest: Science communication and media
Influential books: "Nine Stories," "Canaries on the Rim" and anything by Terry Tempest William
Say "hello!": Find her on Facebook and follow her research updates on ResearchGate and Academia
To halt the advance of climate change, many scientists believe that public behavior across the globe will need to undergo a major shift. But research shows that there's often a disconnect between how citizens, scientists, and policymakers see environmental issues.
What can the media and communicators do to close the gap between what scientists know and what the public understands?
Hollie Smith wants students asking — and finding answers to — that question.
One of the first faculty members to join the SOJC's new Media Center for Science and Technology, Smith focuses on the intersections of science, policy and media in her research. She is particularly interested in the role of science communication and media's effects on environmental decision-making.
Smith, who comes to the SOJC from the University of Rhode Island, has completed collaborative research with the Maine Center for Disease Control and Prevention, Bureau of Ocean Energy Management and the Metcalf Institute for Marine and Environmental Reporting.
We got the chance to talk with her about her background, her research and what she brings to the SOJC.
Why did you decide to come to the SOJC?
The position was really appealing to me because of the opportunity to work with the Media Center for Science and Technology. There's no other center like the MCST in the country, and I wanted to be involved in that important effort.
It feels like a very exciting time within the school. The opportunity to come and be a part of a program that's already well-known while being able to build up a focal area of science communication research is something I couldn't turn down.
I'm also really looking forward to the collaborative possibilities at the University of Oregon. There are world-class faculty within the SOJC and across campus, and that brings some great opportunities to build interdisciplinary efforts that address some of society's most pressing problems.
What do you hope to accomplish at the SOJC?
I hope to utilize my science communication background and build a research program in connection with the faculty at SOJC that will be a valuable addition to the Media Center for Science and Technology. Some of my first goals at UO will be to build interdisciplinary collaborations across campus and work with external partners in an effort to create a collaborative environment that serves as a foundation for future research at the MCST.
How did you come to study science journalism?
I worked professionally as a reporter and covered environmental and scientific stories for my beat. So I really got interested in science communication from a professional lens. I had a few experiences during my time as a reporter that led me to my master's research on environmental communication and environmental journalism, and to asking questions about how we can change the way journalism is taught to better communicate scientific and environmental topics.
What's the value in studying science communication?
Society is facing some big-scale environmental crises like we've never seen before. Parallel to that is a growing distrust in the institutions of media and science. The way we communicate about environmental and scientific issues is particularly important right now because science is one critical avenue for solving the problems we're facing. We need to understand the science that explains the big issues we're facing — climate change, for example — and figure out how that science can be communicated in ways that help us all make better decisions. Communication is often overlooked as part of the decision-making process, but it's the link that can help us take good information and use it in our own lives.
What do you like to do in your spare time?
I love to run and do anything outside with my dog. You can often find me exploring new hikes and trails on the weekends. I'm big into CrossFit. I also love doing anything that lets me have new experiences with friends and family. When you're surrounded with good people, almost anything can be fun.
---
Eric Schucht '18 recently graduated from the UO School of Journalism and Communication with a bachelor's degree in journalism, a minor in multimedia and a certificate in film studies. He was an intern for the SOJC's Communication Office for a year, interned at the alternative The Inlander this spring, and worked for the Roseburg News-Review as a Charles Snowden Program for Excellence in Journalism reporting intern this summer. He has also written for the Daily Emerald, Around the O, The Cottage Grove Sentinel and The Creswell Chronicle.