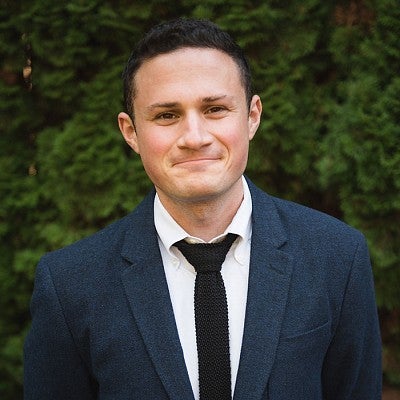 Story by Eric Schucht and Randy Newnham
Hometown: Suffern, New York
Primary research interest: Language and psychological dynamics
Favorite books: "Super Sad True Love Story" by Gary Shteyngart and "Dataclysm" by Christian Rudder
Hobby: Writing and performing music on the saxophone, piano and guitar
Say "hello!": Follow him on Twitter @davemarkowitz31 and learn more about him at www.davidmarkowitz.org
If you're like most people, you text or post to social media all day long. What does all that texting and tweeting say about you? And how is it affecting the way we communicate and tell stories as a society?
For instance, are people more likely to lie on online dating apps than they are in face-to-face meetups?
The answer to that question, according to David Markowitz's research, is yes — but only about certain things. Listen to his recent interview on NPR's "Planet Money" to find out what online daters are lying about.
The SOJC's new assistant professor of social media data analytics, Markowitz comes to Oregon from Stanford University, where he completed his Ph.D. in 2017. His research uses computational approaches to analyze how language is affected by social and psychological dynamics, including deception, persuasion and status. He also evaluates how communication on various media — like mobile phones and immersive virtual reality — reveal what people are thinking, feeling and experiencing psychologically.
We talked to Markowitz about his background and what brought him to the SOJC.
Why you decide to come to the SOJC?
What really attracted me to SOJC was the vibrancy of the faculty and the focus on doing rigorous social scientific research. I am excited to build off the fantastic traditions established in this school and to form additional connections across the university.
What do you hope to accomplish at the SOJC?
I want to produce world-class research and be an inspiring teacher. My mom is a teacher, so I understand the benefits of having a fantastic instructor and someone who inspires students to not settle for mediocrity. I want to engage students in the classroom; make them think critically about issues around communication, technology, and data; and carry that thinking into their own work.
What is the value in what you're studying?
One aspect of my work involves studying how our digital traces reflect information about us. This information reveals a lot about who we are in a social world and what we are experiencing psychologically. For example, if we just look at the language patterns in a status update or tweet, using text as data can tell us about a person's emotional state, whether they're a high social status individual or low social status individual, or even if they're lying. At scale, this is powerful because our digital records are constantly growing and we can draw inferences about people, networks or social issues that were less feasible than before.
So how did you come to study this?
As an undergraduate at Cornell, I became interested in the idea that language can reveal information about us through my coursework and research projects. Understanding how deception affects language is a substantial part of my research, and I remember how in middle school, people would talk to friends differently after school and online than in person and between classes. I always found it very interesting that you could have some conversations with people online that you would never have face to face, or vice versa. Most of the time, these conversations are not deceptive, but the idea that people self-present and communicate online differently than face to face, and we can use digital traces to evaluate these communication processes, inspired me to do my current research.
What is the most important concept for the next generation of professional communicators to take from your work?
It is important for people to realize that our digital records can unobtrusively provide information about who we are in a social world. We can use these records, from text to impressions, to draw inferences about ourselves and our relationships. As our data continues to be stored and recorded online, it is important to develop skills that allow us to think critically about online behavior at scale.
What do you like to do in your free time?
I'm a musician and I have been playing music for over 20 years now, on the piano, saxophone and guitar. I also write my own music and have built my own guitar. Music is a very important part of my life because it's often a universal form of communication.
---
Eric Schucht '18 recently graduated from the UO School of Journalism and Communication with a bachelor's degree in journalism, a minor in multimedia and a certificate in film studies. He was an intern for the SOJC's Communication Office for a year, interned at the alternative The Inlander this spring, and worked for the Roseburg News-Review as a Charles Snowden Program for Excellence in Journalism reporting intern this summer. He has also written for the Daily Emerald, Around the O, The Cottage Grove Sentinel and The Creswell Chronicle.
Randy Newnham, a senior majoring in public relations in the UO School of Journalism and Communication, would rather be pulling espresso shots and playing board games. But the world needs at least one more social media manager, and Randy has risen to the challenge. Together, with the plucky band of underdogs that is his family, Randy fights dirty for social justice. Randy can be found on Twitter, Instagram and in various coffee shops around Eugene.