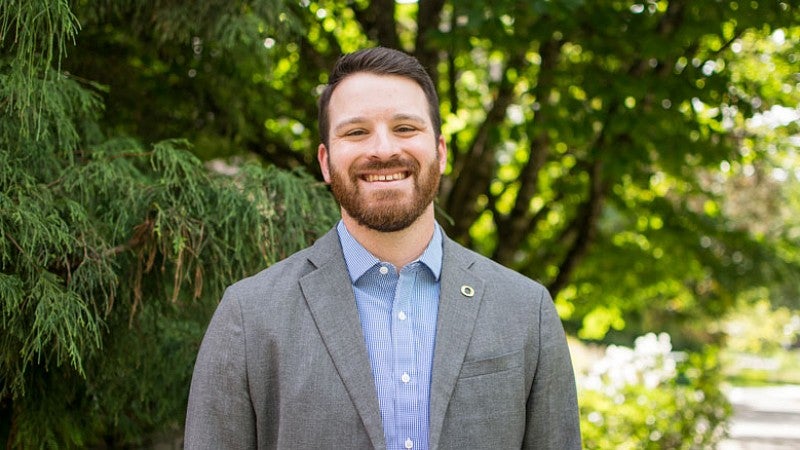 Hometown: Ridgefield, Washington
Primary research interest: Sports branding and communication
Favorite quote: "To give anything less than your best is to sacrifice the gift." —Steve Prefontaine
Say "hello!":  Follow him on Twitter @henrywear
Henry Wear, a native of the Pacific Northwest and a UO alum, has returned to Eugene after years of teaching at Deakin University in Australia. In September, he joined the UO School of Journalism and Communication faculty as an assistant professor of sports communication.
Wear is on a mission to understand the intricacies of how sports companies communicate to their audiences. How do they maintain fans? How do they ensure the culture of sports remains well-positioned in the nation's culture? How do they navigate being part of a multi-billion-dollar industry in an ever-changing economy? Wear grapples with these questions and many more on a daily basis.
We sat down with him to learn more about his research and his plans at the SOJC.
Why did you decide to join the SOJC faculty?
I was already aware of how great and wonderful the UO and Eugene were from my time as a student, but I'm so excited to be part of the SOJC and the wonderful faculty, staff and students that are here. I think it's a really exciting time to be part of the school, and I think the initiatives that we as a group are working on are on the cutting edge of journalism and communication.
As a professor, what do you hope students will gain from your classes?
My hope is that my students will be able to find the confidence in their own creative abilities to adapt and respond to a fast-paced, ever-changing environment. Within the sport industry, things are always on the move, information is readily available and the majority of your stakeholders consider themselves experts. This requires communication professionals in the industry to be flexible, quick-thinking and innovative. In my classes, I hope to try and give students experiences with this unique industry and help them become comfortable with the myriad skills necessary in this industry.
What has inspired you to research sports communication?
Sports can push us to feel and do things that other traditional products or cultural products can't. My research then has always been to try and understand why fans and individuals do what they do, and how sport organizations can use their influence over their stakeholders to drive perceptions and behaviors that are hopefully positive (i.e., psychological well-being, self-esteem, sense of community, etc.).
How has your background as a research consultant working with sports teams and organizations around the world helped to frame your academic focus?
I think I've been fortunate to work with a diverse group of teams, leagues and organizations in a number of different research capacities. My collaborations with Minor League Baseball, NASCAR and college athletics helped to broaden my understanding of the sport industry. My work with international organizations and events like the Tour de France, FIFA Club World Cup and, most recently, the Australian Football League, India Premier League (Cricket) and Netball Australia has really broadened my perspective on what it means to be a sports fan and sports consumer. The more you travel and the more you experience different parts of the world, the more you understand that we are people and that sports can be a universal language that unites us all.
What do you see as the value in studying the many facets of the sport industry?
One of my favorite ways to think about the sport industry is framed around the work of "Freakonomics" author Stephen Dubner, who stated that in terms of size and dollar value, the sport industry is about the same size as the cardboard box industry. Now this might sound insignificant, but think how often you use or see a cardboard box. It's a pretty healthy industry from a financial perspective.
However, there is not a cardboard box industry section in the newspaper, there aren't multiple 24-hour cable networks devoted to cardboard boxes and you don't see fans wearing jerseys, T-shirts or caps of their favorite cardboard box manufacturer. There is a powerful cultural and societal weight that sports have in our world. For this reason, I believe it's important to understand the intricacies of why this industry matters so much to so many people.
During your time in Australia, did you determine any significant difference between how Australia and the United States approach sports branding, marketing and communication, as well as how consumers interact with the sporting goods industry?
I think we often think that the USA has the monopoly on sport fandom, and while I love American sport more than anything, it was a really great experience to spend some time in another country to see how fans across the world engage with sport. Australia has a small population, and sport felt more like a source for national and cultural pride, in addition to being a commercial product. This meant that the government was more involved at every level of sport, from grassroots to the highest commercial sports.
I would like to point out that sport professionals — whether they be in marketing, communications, PR or journalism — need to have an understanding that there is not one "right" way to engage with and grow the sport industry. Every country and culture is unique, and what resonates with one may not resonate with the other.
What do you like to do in your spare time?
Most of my spare time is spent with my wife and 1.5-year-old daughter. We love to be active and outside as a family. We are happy to be back in the Pacific Northwest after being gone for so many years, so we've been taking lots of little road trips to the coast, the mountains and the rivers. When not hanging out with the family, I enjoy golfing, running, cycling and playing any number of sport video games (FIFA, Madden, NBA 2k).
What's the single most important piece of advice you'd like to give to current SOJC students?
I would encourage our students to believe in their passions, find their unique voice and embrace the hustle of working in this industry. I would also encourage them to find and build experiences that contribute to their own unique story. Your portfolio, your resume, your CV is not just a list of things you've accomplished, but your own narrative that shows the world who you are and what you're capable of.
Story by Kyra Hanson
---
Kyra Hanson is a senior majoring in public relations within the SOJC. She is an account executive for Allen Hall Public Relations and vice president of the UO chapter of the Public Relations Student Society of America (PRSSA). After graduating, she plans to pursue a career in strategic communication with a focus on the health sector. In her spare time, you can find her exploring with her pit bull Juni or frequenting coffee shops around town.