Identity is the key to knowing the soul of a person, and a beautiful gift to give oneself.
My identity is tied into the lives of my ancestors, but I did not know where to begin on the path of discovering who they were. It was particularly difficult to find the women that came before me. Even now, as I look at my own face, I can see my ancestors. Who were these individuals that made it possible for me to live?
My journey started in December 2020 when I determined that I would research my ancestors for my Multimedia Journalism Master's capstone project, which culminated in spring 2021. The path before me was uncertain, but I needed to know the truth.
In February 2021 I started by interviewing my mother. As a child, I remember interrogating my sleep-deprived mother about our ancestors when she completed her eight-hour shift at 9 a.m. The answers were always the same: They worked hard. They lived and cared for others. I would refrain from stomping away, but these answers were unsatisfactory.
As I set up my video camera and Zoom audio recorder to interview my mother, I wondered if I would get the same short replies. What my younger self could not know then is that the censorship of our ancestors' stories came from the strongly bonded red tape of generational trauma.
The deep notes of my mother's voice washed over me. Each answer she gave me was a glimpse into the past, a bead to link onto the thread of heritage my ancestors left behind. I had so many questions as I processed the next steps to figuring out my identity.
When I interviewed my mother, I did not know yet that I would participate in the Media in Ghana program that summer. I also did not I think I would be on a flight to Florida in March, but my research took me well beyond ancestry.com.
I decided to start with my maternal side, since I did not know that much about the women who came before me. My mother's interview expressed views about my Great Grandma Essie as a kind and disciplined woman. Before she passed, she lost her eyesight. My great grandma had to relearn how to live her life. She carefully tended to the property she owned in Florida. She learned to care for herself and family despite losing her vision. Essie loved the life she had. I wanted to do all I could to understand the legacy she left behind.
When I sat down to edit my mother's audio, I could hear the pain in each word. My mother was left bereft of knowing anything to attach her to the past. Although she remembered the beautiful moments of Essie's life, she still did not understand what made her Grandma resilient. Each woman held her pain inside, rather than expressing the details of their lives.
I did not want to make the same mistake.
This is how I found myself in August 2021, dazed, standing among the cacophony of the Kotoka International Airport in Ghana after two flight cancellations and lost luggage.
I must have appeared like a lost baby gazelle as I toddled outside the airport doors. As a Black American, I have never been a part of the majority — but here, I was surrounded by so many faces that matched my own.
My feelings overwhelmed me. Tears welled up but could not quite spill. Laughter bubbled but did not quite resound. I felt grateful to have my feet planted on the soil that my ancestors walked upon. I had made it to the Homeland.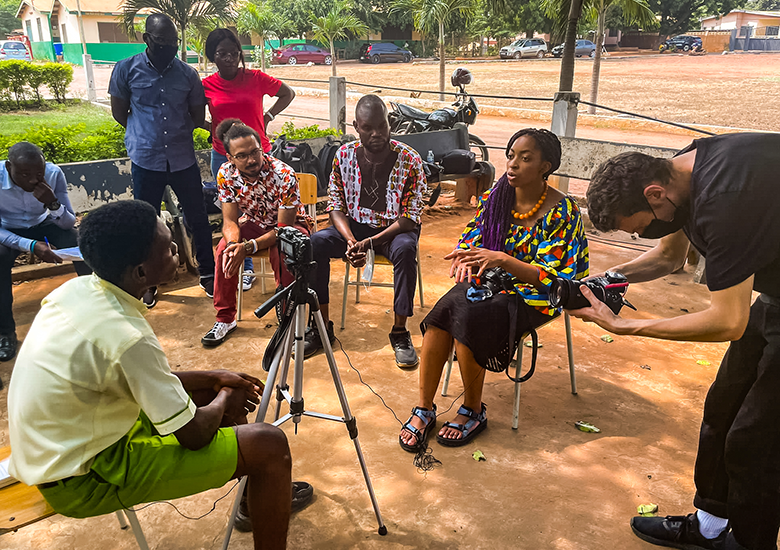 Jahlysa Azaret (right) is interviewed by a high school student who is learning to be a journalist. Photo courtesy of Jahlysa Azaret.
Through the first week, I tried to find my proper footing. Although I love languages, I could not yet form a full conversation in Twi. I managed a good introduction, complete with name exchanges and how-do-you-dos. Past that initial greeting, I was lost in the sea of Twi, Ga and Akan. In addition to language learning, I feasted upon jollof rice and delicious fresh tilapia meals. Each morning I had a grand breakfast of mango slices, fresh bread and creamy oatmeal.
Friends were a far-off memory during much of my time in grad school, since it coincided with the Covid-19 pandemic. For 18 months, I had only close interactions with my husband. I love him dearly, but my heart would surely have grown fonder if we had more distance. I craved human interaction beyond the glare of blue light radiating from various screens. In Ghana, I had the chance to have a physical community again.
In the student living quarters, I communed with five other amazing students. Each person was driven by a vision for their careers. From our class to living together, I was reentering society. I did not have to send a private message through Zoom; I could just ask my questions while we sat in the same room. Each morning, I found joy in having breakfast with my cohort. We got to laugh and share life with each other.
My room happened to be the only place in the apartment without air conditioning. Heat is a great motivator to communicate with others in cooler spaces. Most nights, I sat in the living room working on my stories. We would pass ideas between one another. We helped each other feel at home. It was more than a study abroad group — I had a whole study abroad family.
I know that without this program, I would not have met any of the individuals I lived with. However, Ghana viewed us as one class — we were all students from America. We depended on one another to create an understanding of our surroundings.
As we all struggled to learn Twi; our pronunciations were not the best. We took turns giving directions to confused food delivery drivers. Our group messages repeatedly consisted of clarifications on our exact address. There is a certain comfort in knowing that you will not be laughed at, since everyone else is learning. In a very real sense, we were on an equal plane of existence.
As the month progressed, we each began our respective internships. I had the opportunity to work on a variety of stories. I feature some of what I learned from my internship here: Threading Technique and Heart into Journalism.
Some stories I refrained from sharing on the Media in Ghana blog were the ones that took me longer to personally process. Before going to Ghana, I had the opportunity to do interviews on hard subjects that would touch on the trauma of others, but I had not dealt with stories involving death before.
I ran across Accra doing stories on crime and community updates with a local journalist by the name of Philipa Atanga. The particular story that gripped me focused on a woman named Eunice Yeboah. Eunice was an innocent bystander who was shot outside her home by celebratory gun shots from a wedding. A family member recorded her last moments alive on their phone.
Watching Eunice's last moments was the first time I had witnessed death. Eunice was 26 years old, the same age as me. As her life drained away, I was deeply rooted in the sadness that washed over me. I felt sick. The impartial front of being a journalist was slipping from me: How could I consolidate how I felt and still do my job?
Journalists have always appeared stoic to me, as if their job left no room for emotion. But I saw compassion throughout the interview between Philipa and Eunice's family. Philipa demonstrated that I did not have to lose my empathy for the sake of a story.
That night I cried for the injustice of Eunice's young life being taken. I grew as a journalist more that day than I had in any other class. I learned to keep my humanity and I learned what it meant to hold the community's trust as a journalist.
By the end of my internship, I felt like I could finally understand my past. I no longer felt afraid of it. I could understand the sacrifices my ancestors made before me. I could see the suffering they went through, without feeling guilty for existing myself. I am here because my ancestors did not give up. I get to maintain my humanity because that is the journalist I need to be. The women who came before me made it so I could go to Ghana. They made it possible for me to explore a world of possibilities, to find pride in my heritage. I hope each day to show the lessons I learned from Ghana and be the journalist that my ancestors know I can be.
—By Jahlysa Azaret, class of '21.
Jahlysa Azaret is an alumna of the Multimedia Journalism master's program in Portland. She is a multimedia journalist that strives to tell stories that focus on the BIPOC community. Jahlysa is deeply invested in stories around finding resilience through the obstacles that generational trauma leaves behind. Connect with Jahlysa on LinkedIn.