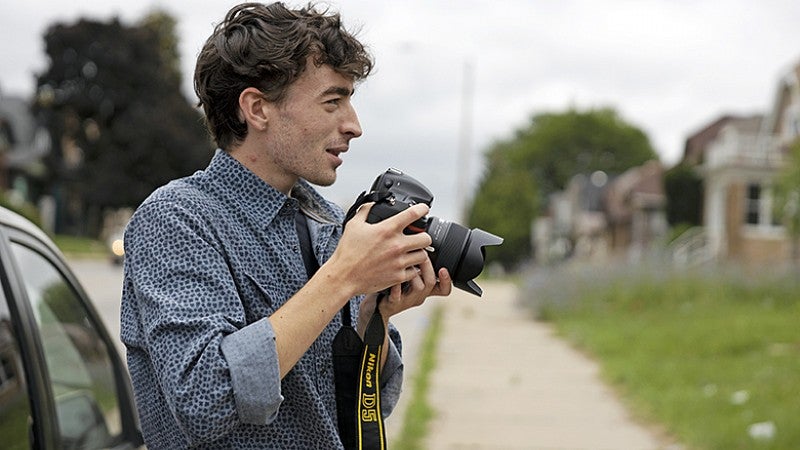 Wisconsin Watch photo intern Isaac Wasserman photographs the Al-Mijaahid family for a story about lead pipes and drinking water on July 8, 2021 at their home in Milwaukee, Wisconsin. Photo Credit: Coburn Dukehart / Wisconsin Watch.
Real-life experience is everything when it comes to landing that first job after college. But not all students can afford to accept these crucial professional internships. Many are working to support themselves or meet other financial obligations, so taking an unpaid or even low-paying internship is out of the question.
To combat this inequity, Rachel Allen, the associate director of student services at the UO School of Journalism and Communication (SOJC), developed the SOJC Internship Support Fund. The fund offers stipends of up to $1,500 to students who need additional financial assistance to pursue a professional internship. The money might help them relocate to an internship opportunity, build a work wardrobe, or pay bills and buy groceries.
Kaylee Smith, a fourth-year public relations student, was among those who received a stipend this past year. Over spring and summer terms, she interned for TrackTown USA as a communications content creator, and for an ad agency, Laundry Service, as a brand strategist. Working remotely for Laundry Service's Los Angeles office, Smith gained hands-on experience while she learned how to engage a target audience for large companies including Mountain Dew Rise and Amazon Music.
"There was one point where I was balancing four jobs, and two of those were unpaid," Smith said. "I would not have taken any of the internships if they had not been funded by the SOJC."
DONATE TO THE INTERNSHIP SUPPORT FUND
Unlike some programs that support employers who give internships, the Internship Support Fund is all about supporting students. It looks at applicants holistically, aiming to serve students of color and those from lower-income backgrounds who typically have less access to unpaid positions.
The fund is a way to "level the playing field and give students access to opportunities other students have and don't even think about," Allen said.
Isaac Wasserman, another Internship Support Fund recipient, spent his summer working as a photojournalism intern for the Wisconsin Watch.
"Being able to have a 10-week stint and being thrown into the fire was super helpful," said the journalism major, who is interested in environmental issues.
Wasserman spent a portion of his time at the publication working on a larger environmental justice story about contaminant issues in a local waterway. His internship reaffirmed his passion for environmental justice and photojournalism. He received feedback from the Wisconsin Watch telling him they were impressed with the SOJC and the journalistic abilities of its students. They hope to get more students from Oregon in the future.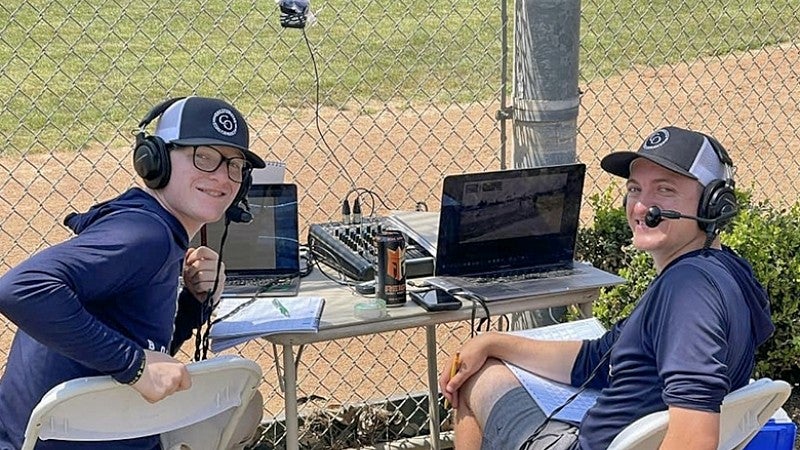 Knight Jarecki (left) calls a baseball game for the Conejo Oaks of the California Collegiate League. Photo courtesy of Knight Jarecki.
Knight Jarecki said his internship experience was a "dream position." Working as a broadcast intern for the Conejo Oaks of the California Collegiate League, he was able to call baseball games six days a week for nearly two months.
"The key to play-by-play is reps, and this internship got me valuable reps I needed," he said. "This made me realize that my passion is sports broadcasting."
Time spent on the road racked up food and gas costs, but the stipend from the fund allowed Jarecki to work all summer and still cover his expenses.
The fund's impact extends far beyond supporting a student financially. It empowers students to do things they never thought they could, and to share those stories.
Lily Robbins, for instance, left the University of Oregon in 2002 due to outside circumstances and returned after 20 years to become an advertising student. This time, she fell in love with the concept of the story.
"I learned that I could ask somebody a question and that could give me this window into their world," she said.
Her current internship at Hallett Lab, working on a multimedia art installation, ties her love of storytelling to her passion for visual arts. She hopes to one day work for a production team assisting with branding, commercials and documentaries.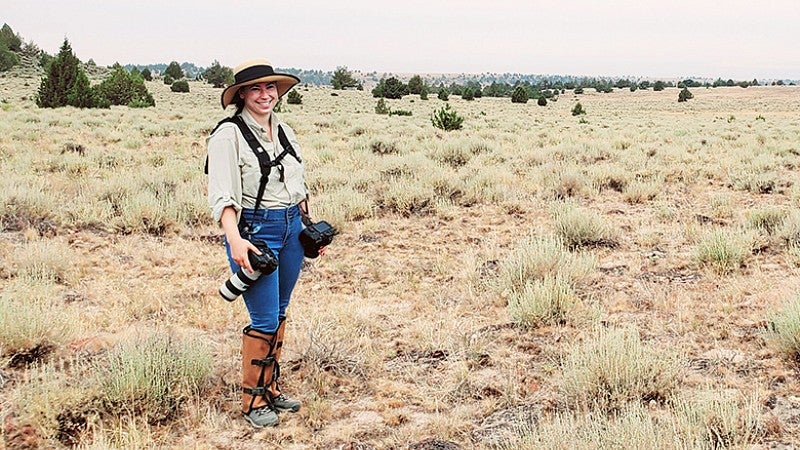 Lily Robbins capturies media in the field for Hallett Research Lab. Photo courtesy of Lily Robbins.
As a single mom, finances can be tight, but Robbins says the most challenging part is when she feels like she's alone.
"By receiving the grant, it's given me even more hope that if I go for what I want and I put myself out there, I can receive positive things in my life," she said.
The support of the fund doesn't end with a financial stipend. Allen and the Undergraduate Student Services Center at the SOJC provide continuous support for students, assisting with resume building, cover letter writing and career counseling.
This fund and the invaluable experiences it helps students gain would not be possible without the support of donors and alumni. Donations provide students with the means to gain critical professional experience that will contribute to their success long after graduating—something recipients have expressed immense gratitude for.
DONATE TO THE INTERNSHIP SUPPORT FUND
—By Haley Landis, class of '22
Haley Landis is a third-year journalism student from Portland, Oregon. She has a passion for writing and is driven by her desire to meet new people and learn about new and challenging topics. She strives to engage an audience through compelling storytelling across a variety of subjects.