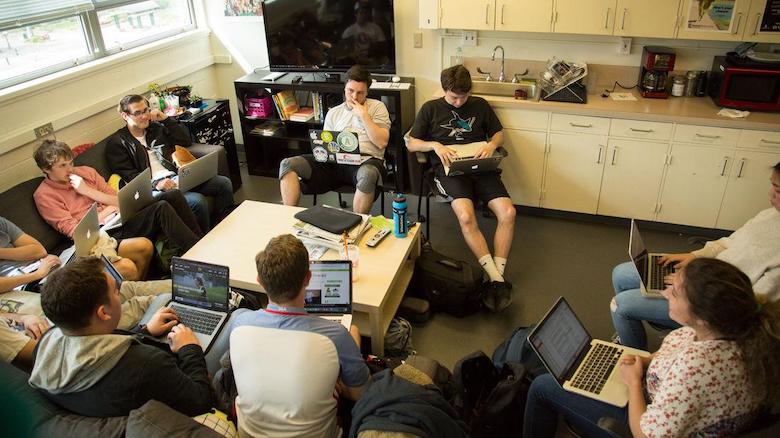 Editor's note: This post is part of an ongoing series of student opinion pieces about issues in communication ethics. Check back on the #LifeasaJStudent Blog for future posts in the series. Know of a journalist or news organization that made ethical decisions while publishing a story in 2019? Nominate them by February 15 for the Ancil Payne Award for Ethics in Journalism.
By Michael Tobin 
It's no secret that emotions run high on college campuses. Young people who believe passionately in their political convictions and express them by exercising their First Amendment rights of speech and assembly are crucial to maintaining a republic.
But at Northwestern University last November, it seems that passionate young people forgot one of the other parts of the First Amendment: the freedom of the press.
In case you missed the entire debacle, here's a summary: Students protested when former Attorney General Jeff Sessions spoke at Northwestern. Photojournalists from the Daily Northwestern, the university's student newspaper, took photos of the protesters and posted them on Twitter. The newspaper quickly faced backlash from protesters who said the coverage put them at risk. The Daily Northwestern eventually took down the photos and issued an apology on why they decided to do so, unleashing a relentless stream of online criticism from professional journalists on Twitter.
Before I go any further, allow me to make a few points. First, the photojournalists were well within their First Amendment rights to cover the protest and did so ethically. A public protest is a newsworthy event that deserves coverage. Second, some of the criticism professional reporters leveled against the student reporters was overly harsh. Improvements can always be made, but I'm sure those critical reporters made mistakes when they were young too. Third, the Daily Northwestern's editor, Troy Closson, handled a difficult situation with grace, and I admire how he addressed the criticism on Twitter.
I was initially critical of the newspaper's decisions and even fired off one or two tweets. While I still don't agree with the decision to take down the photos and apologize for ethical reporting, there is a bigger point I missed in my first reaction: Journalists at all levels need to be more transparent with readers about their work and reporting process.
While it's easy to get on a soap box and preach about how the world should be, it's harder to confront the reality on the ground and admit to past shortcomings and failures.
But that's what the Daily Emerald, the UO's independent student newspaper, is doing.
Earlier this week, we introduced the Emerald Trust Project, our initiative to earn trust with the community and break down the barriers between those who report the news and those who read it.
We recognize that in the past, we have not been transparent enough with readers about how we gather information, make decisions and report stories. To a member of the public, journalism can seem like a black box where it's impossible to know how a story goes from pitch to publication.
Some of our ideas are fairly simple, such as making it clear to readers that a source told the Emerald information in an interview, or that we received documents from a public records request. Posting the documents themselves goes a long way too, and we did just that in the story we broke last week about a UOPD police officer who was fired for violating the department's use of force policy and providing false information in a report and court testimony.
We are also continuing our "How It's Reported" podcast series, in which an Emerald reporter breaks down how they reported a story. The intention of this podcast is to show readers that reporting isn't a mystery, but a process.
We also make mistakes, but we think it's important to own them and show the public when and how mistakes are made. We keep a corrections log on our website and encourage readers to point out corrections if they appear in print or online.
But most important, we want our readers to know who we are, and we want to know who they are. We currently have a feature in our DailyE newsletter called "Who We Are Wednesday" that appears each week and is intended to help readers match a face with a byline.
Personal interactions are even better, so we invite you to join members of our newsroom at Falling Sky in the EMU on Thursday, Jan. 23, from 6 to 8 p.m. to enjoy pizza and some conversations with our staff.
As the year goes on, we will re-examine our methods for interacting with our community and make changes as necessary. We're excited to hear what you have to say.
---
Michael Tobin is a senior at the University of Oregon School of Journalism and Communication double-majoring in journalism and political science, with a minor in legal studies. He is the editor-in-chief of the Daily Emerald and has interned at The Wall Street Journal and Eugene Weekly. He is graduating in June 2020 and will be interning at Bloomberg News in Washington, D.C., after graduating.
---
Know of a journalist or news organization that faced an ethical dilemma while publishing a story in 2019? Nominate them by Feb. 15 for the SOJC's 2020 Ancil Payne Award for Ethics in Journalism. This year's 20th anniversary winner will receive a $10,000 prize.