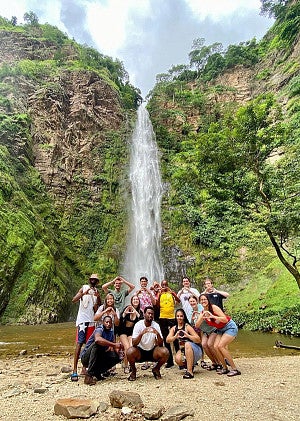 During my college application process in my senior year of high school, I thought about what I valued most in a university. In addition to academics and extracurriculars, I evaluated the study-abroad resources each school offered because it was an important part of my college plan. This is where the University of Oregon started to check off more boxes.
In my search, the Media in Ghana program instantly caught my attention. Not only is it a trip for students to gain a new perspective on a different culture, but it also gives students valuable internship experience. The program works directly with the University of Ghana to pair students with internships at media companies in Accra, Ghana's most populated city. These companies typically include radio stations, newspapers and any other companies in need of media consultation.
After getting accepted to UO and starting the orientation process, Media in Ghana was in the back of my mind. I applied to the program six weeks into my college career, taking several weeks to perfectly curate my essays. Some would say I was eager. I then had my interview with the trip adviser, Professor Leslie Steeves, before I left for winter break in early December. At the end of the conversation, she asked if I had a passport. I was in!
I was kept up to date on an email chain as more people were accepted at the start of the new year. I became anxious as I discovered I was going to be the youngest student in the program. Even though most students were undergraduates, they were older with more experience — a class or two away from graduating — and some were even planning their weddings.
The program requires a prep class taken in the spring term, and I went into the first day of the class with an open mind. When we all met, we were timid, but with time we clicked. As we progressed through language lessons and cultural presentations, everyone became more eager. We knew we were about to experience a life-changing summer. It was great to have a group of open-minded individuals with me, trying many new things in this unfamiliar setting. They made assimilating into a daily routine in a new country and new internship less daunting.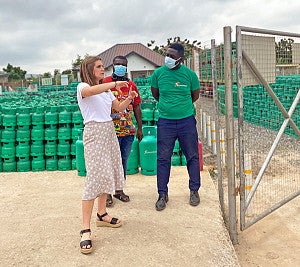 After one class on public relations and media strategy, I was paired up with a small gas company that needed help with media strategy and outreach. This experience pushed me to learn how to create pieces such as a real media audit review, an ad campaign creative brief and a PR feature article. Now I have real-world experiences and portfolio pieces even before I have been formally taught how to do them in school.
In addition to the professional experience I was able to gain, the trip was also enriched with cultural tours and impactful destinations. Some of the notable places we visited were the Anani Memorial International School, markets like the Kantamonto Market, and museums such as the Nkyinkyim Museum and the Artists Alliance Gallery. From interacting with children at a school in one of Accra's most impoverished neighborhoods to shopping at West Africa's largest second-hand clothing market to viewing culturally influenced art installations, I was able to get more of a perspective on some day-to-day routines of Ghanaians. We also visited some significant landmarks such as Wli Falls, the tallest waterfall in West Africa, along with Mount Afadjato, Ghana's tallest mountain.
But the most important sites we visited, and possibly the most significant part of the entire trip, were our tours of Elmina and Cape Coast slave castles. These places helped me grasp the importance of Ghanaian history and its ties to African and American societies. I was able to make further comparisons to America and how much of America's history is rooted within the transatlantic slave trade, despite it hardly being discussed in our education system. I realized how different African countries are from their portrayal in westernized media. These tours and destinations helped show me and the group how, as journalists, we are storytellers and are responsible for informing our friends and family in the United States about the stories that shape life and culture in a country that many never experience.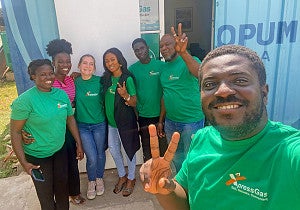 These valuable pieces that made this trip so impactful wouldn't have had the same effect if it weren't for the people, though. It is a consensus amongst the group that between our peers, coworkers, tour guides and friends we met along the way, meeting the people and hearing their life stories was the best part of the journey.
After coming back to the States, I get a lot of questions about the trip. One question that keeps the experience vivid in my mind is when people ask if there is advice I would give to future students in the program. After playing back all my memories, filled with many ups and downs, my best advice is to go in with an open mind. Apply with an open mind; start your internship with an open mind; try new foods with an open mind; talk to new people with an open mind; and push yourself to keep that mindset. Overall, it's important to know that you will be shocked and taken aback in your first few moments in Ghana, but even more shocked by the journalist or communicator you will become once you complete the program.
If you're interested in applying for the summer 2023 Media in Ghana trip and internship, apply on the program's website by the early-application deadline of January 10, 2023. If you have any questions, email Professor Steeves or Assistant Professor S. Senyo Ofori-Parku.
—By Liz Sgro, class of '24
---
Liz Sgro is a sophomore majoring in public relations and advertising. Sgro is the National Liason for the Public Relations Student Society of America and a creative for the SOJC's climate journalism group, the Rising Project. As a Resident Assistant for the Media and Social Action Academic Residential Community, Sgro loves to have movie nights and cook with her residents in her free time. Check out her work and get in contact with her via her LinkedIn profile.