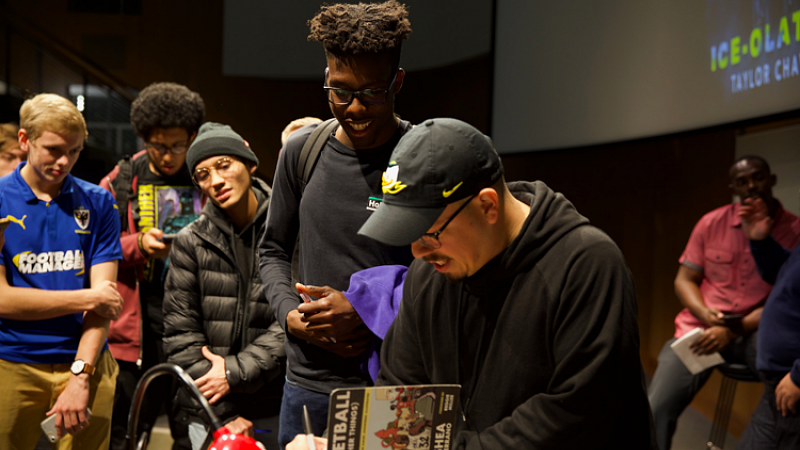 Post by Maggie Vanoni
Photos by Cheyenne Thorpe
Editor's note: This student blog post is the second in a series of two posts about Shea Serrano's visit to campus in fall term 2018. Read student Linden Moore's blog post about three things she learned about writing and life from Serrano.
In November, I had the amazing opportunity to be on a student-led panel at a lecture featuring Shea Serrano. The UO School of Journalism and Communications (SOJC) brought Serrano to campus to talk about his career as a best-selling author and sports blogger.
Being on the panel was an experience I will never forget. I felt empowered not only by listening to Serrano's words of wisdom, but also knowing that I was representing the many women in our school who dream of having a career in the sports writing industry.
I also really enjoyed hearing about Serrano's experience in the fast-paced, fun-packed world of sports writing.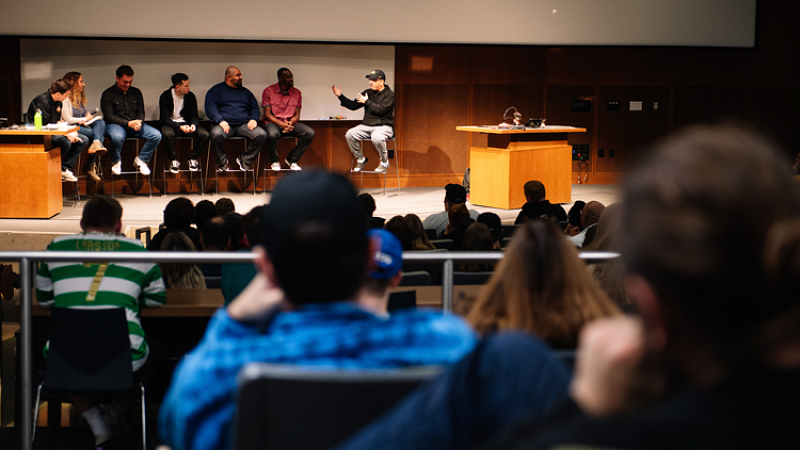 Here are four main points I took away from Serrano's visit:
1. Good writing is all about finding something you're passionate about.
Serrano loves basketball, from the history of the sport to its players and the league. Read his book, "Basketball (and Other Things)," and you'll see how this passion translates into an engaging read. Loving the subject you write about not only makes for more meaningful writing, but it also allows you to feel more connected and excited about your writing, which motivates you to do your best.
2. Don't be afraid to be yourself.
One thing I admire about Serrano's writing is that he is never afraid. He doesn't hesitate to express an unpopular opinion, make a crude joke or break the rules of formal writing. As a college-student sports writer, and a writer in general, I aspire to have that confidence to write strong while allowing my personality to shine through.
3. Become an expert on what you write about.
No matter what basketball or rap question Serrano was asked by the 100+-person crowd at the lecture, he always had an answer. Serrano knows the sport of basketball. He knows everything from its history to the stats of every player and team. I think this comes with being passionate about your subject, and after reading Serrano's books and articles, I think it makes him a better writer. It inspires me to fully research, and research again, every new — and current — interest of mine.
4. Accept the support of others.
Participating on the panel during Serrano's lecture helped me get over my nervousness with public speaking. Knowing that the faculty at the SOJC had confidence in me and chose me to speak on the panel at Serrano's lecture allowed me to overcome this fear.
That's one reason why I love being a part of the SOJC: No matter the occasion or the person, the faculty always make me, and every student, feel supported.
---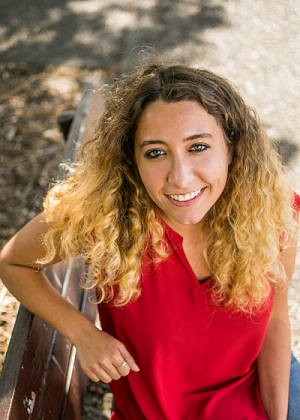 Maggie Vanoni is a senior at the SOJC, majoring in journalism with a focus on sports writing. In summer 2018, she interned at The Register-Guard in Eugene through the Charles Snowden Program for Excellence in Journalism. Maggie is also the president of the Oregon chapter of the Association for Women in Sports Media (AWSM). She currently works as a sports reporter for the Daily Emerald, the student-run independent news publication based out of the University of Oregon campus.