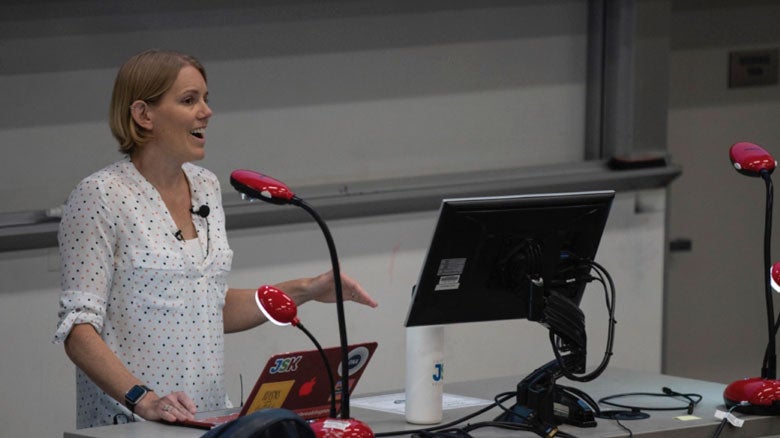 John S. Knight Journalism Fellow Mandy Jenkins, the (first) former editor-in-chief of Storyful, explores nontraditional career paths, civic engagement and the importance of problem-solving
By Destiny Alvarez
Although she has never been a traditional  reporter— and has never had a job that someone else had before her — Mandy Jenkins is a powerhouse journalist. 
Instead of following more proven routes, she made her mark in newsrooms and news organizations by becoming a problem solver. The SOJC was fortunate to host Jenkins earlier this term, as a journalist in residence while she was a JSK 2018-19 Fellow at Stanford.
While a lot of the work she wound up doing throughout her career wasn't in her job description, her unique skillset continually evolved her position. Even though she's never been a reporter, she's worked in a lot of positions that provided her with the opportunity to do impactful things. 
"Making enemies is an indication of important work," Jenkins said. 
As one of the first social media editors in the country, Jenkins has sought to bring newsrooms into the digital arena and increase community engagement. She led Huffington Post's Off the Bus project, which was designed as a social media-driven civic engagement project surrounding 2012 election coverage. 
She's also had positions in digital media at the DC-based local news startup TBD, the Cincinnati Enquirer and the Milwaukee Journal Sentinel. She recently left her position as editor-in-chief at Storyful to pursue a John S. Knight Journalism Fellowship at Stanford University, where her work focused on consumers of disinformation. 
Jenkins has had what she calls a nontraditional journalism path. During her visit to the UO, she urged students to look outside the box and understand that while the jobs she's had in the past have not all been glamorous, she's never been bored and has written her own job descriptions. 
"I really want journalism students to know that there's a lot of options out there for them," she said.  "And it's a very scary industry to go into. And they have to really want it. But also that there's a lot of options for them, if they're looking carefully." 
Here are her top five tips for journalism students: 
1. Be a problem solver 
Journalists should be observant of needs and flexible about their job descriptions. If something is happening that falls outside your purview, help out. By being able to learn fast, adapt, and come back every day excited about the work being done, journalists can craft the jobs they want. 
2. Be a diverse candidate 
Editors are looking for a wide array of skillsets. While specializations can be useful there isn't much room for them anymore. Journalists will be expected to have digital and social media skills—but don't discount journalism basics such as being able to communicate with people both on the phone and in person. Organizations like Poynter, Society of Professional Journalists and Journalists Resource have tons of resources to help journalists amplify their skills. 
3. Career progression is not a ladder— it's a jungle gym 
Jenkins stressed that while she moved up in her career, it was never in a straight line. Journalists should strive to gain more knowledge about the industry, including the business side of journalism. ONA18 created a list of how new journalists and students can embrace the nontraditional career path. 
4. Get to know the community you serve 
Journalists can get caught up in social media and assume all too often that everyone uses it. They should actively participate in community events and talk to people from within the community they're covering to get a better sense of how they fill the community's coverage needs. The journalism collaborative Gather has case studies, resources and examples to help journalists better engage in their communities. 
5. Build and maintain relationships 
Building and maintaining relationships—including personal and professional networks both inside and outside of the newsroom—is key. Taking the time to help raise other people up and really look for ways to engage can help further your career and increase credibility. 
----
Each term, the University of Oregon invites guest speakers in the academic and professional media industry to participate in the "Demystifying Media" seminar series. The series gives faculty, students and staff the opportunity to explore the impacts of the 21st-century media revolution by hearing from those working at the cutting-edge of practice and research. Mandy Jenkins presented the third lecture of the spring 2019 series, discussing her career, engaging with audiences and how journalists can use social media. 
---
Destiny Alvarez is a journalist based in Portland, Oregon. She graduated from the University of Oregon School of Journalism and Communication (SOJC) with a master's in journalism in 2019 and from the University of Idaho with a BS in journalism in 2017. Alvarez was the 2019 editor-in-chief of the award-winning student-led SOJC publication Flux Magazine. Alvarez served as the spring 2019 Demystifying Media Intern and the 2019 Charles Snowden Program for Excellence in Journalism intern for The Register-Guard in Eugene, Oregon. She is a happy plant mom, journalist and coffee enthusiast.