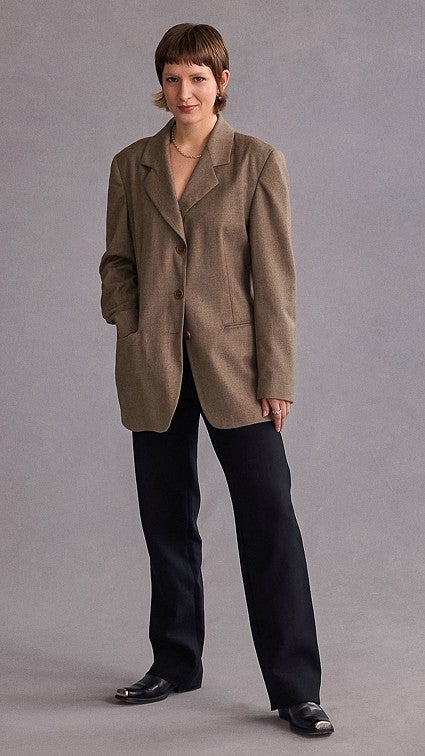 Claren Walker '19 has always loved making creative connections.
As a home-schooled student growing up in Beaverton, Oregon, she loved having the academic freedom to explore her many interests and passions. When she got to the University of Oregon, she had a hard time narrowing down her academic pursuits, starting off as an art history and advertising double major.
Then she found the UO School of Journalism and Communication's (SOJC) media studies program.
"It offered this really exciting framework to think about the interstices between art and architecture, communication, politics, technology and theory," Walker said. 
After graduating from the SOJC in 2019 with the Outstanding Media Studies Student Award, she worked in a variety of interesting positions — in fashion, music, and archiving — before landing at a New York design agency that puts her intellectual curiosity to good use.
What does your job entail? What does your day-to-day look like?
I'm associate strategist at Porto Rocha — a design studio founded by power couple Leo Porto and Felipe Rocha and based in Brooklyn. I feel lucky because I got in on the ground floor of a studio with very engaged and supportive founders. Although the majority of my work has been project management, I haven't felt siloed or limited, despite my junior position.
In the year I've been in my role, I've been able to explore and dabble in production, strategy and copywriting, and witness the alchemy of branding up close. Because we work with such diverse clients, I've also had the opportunity to be immersed in radically different spaces: everything from crypto to architecture to book design. On a more technical level, the role has deepened my understanding of systems and tools like Keynote and Figma.
One of the best parts of my job is that I get to work alongside talented designers who are genuinely engaged in the world and culture. It's been really exciting and fulfilling to be part of creative processes and see how ideas evolve within our team.
How did you land your current role? What steps did you take?
Like many other grads who were stepping into their careers circa 2020, I didn't exactly have a linear path to my current role. Before Porto Rocha, I worked for a small sustainable fashion brand, a music licensing agency and even had a brief stint as a freelance archivist.
My goal was always to get to New York, so when I saw a Porto Rocha job posting on my TikTok for-you page, it felt like fate, or at least a very apt algorithm! A photographer friend connected me with Leo and Felipe, the studio founders, for an introductory chat, and I booked a one-way flight to Brooklyn a few weeks later.
How did the SOJC prepare you for your career?
The SOJC taught me the value of relationships and networks and gave me a very pragmatic toolkit that has helped me in the creative field. The ongoing emphasis on creative strategy and storytelling has proved instrumental in my success in the brand and design world.
Does any class stand out in your mind when you think back to your time in the SOJC?
The courses I took with Carl Bybee have stuck with me — his seminar on consumer culture and philosophy of communication. In the advertising track, Christopher Chávez's advertising and culture was a standout. I would also recommend Stephen Asbury's design course to anyone who wants to work in a creative field.
Did you have any "moments of truth" or defining moments at UO?
I had a bit of an identity crisis when I decided to leave the art history major my junior year. It felt like I was letting go of a big part of my identity, but it challenged me to find creative ways to integrate those interests into my academic life at the SOJC and in my personal, intellectual life.
When I connected with professors in the media studies department, that was an "aha moment."  Suddenly, there was this open field in front of me where I could pursue my interests in a truly interdisciplinary and integrated way. It gave form to the way I was already thinking about connections between what I read, listened to and consumed.
Does one professor stand out to you when you think back to UO?
I'm incredibly grateful for the support of my thesis advisors in the SOJC and in the art history department: Gretchen Soderlund, Christopher Chávez and Emily Scott. They, along with Carl Bybee, Kirby Brown and Jenny Lin, introduced me to ideas and ways of thinking that informed who I am today and still encourage me to engage with the world with curiosity, criticism and empathy.
What do you miss most about UO or the SOJC?
I really miss the energy and intellectual camaraderie that I found in seminars at UO. Of course, I also miss access to all the resources at the SOJC.
What other advice do you have for SOJC students?
Don't stress too much about "producing" projects for your portfolio. Spend some time as a thoughtful media consumer and find the things you love. Developing a critical perspective and intellectual curiosity will usually serve you better than producing something because you feel like you have to. Your whole career will be focused on outputs. Take some time to be a true student and experiment with whatever you're interested in.
And I'll also give the classic piece of advice: Talk to your professors outside of class! They can change your life, seriously.
—By Johnny Media, class of '23
Johnny Media is a junior majoring in journalism with a minor in sports business. This is Media's first year writing for the SOJC Communication Office. He has previously written for The Commuter and is currently working as a student ambassador for the SOJC. He loves getting opportunities to highlight the amazing alumni who have come through Allen Hall. You can view more of his work on his personal blog.