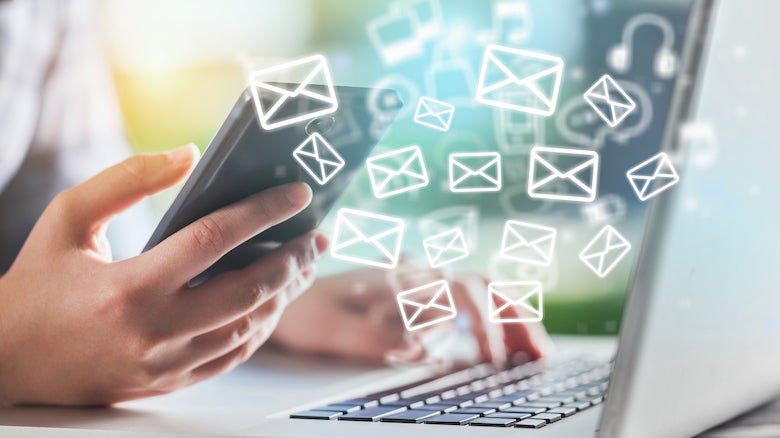 By Adam Spencer
It seemed like the world stopped during finals week at the University of Oregon. At Allen Hall, everyone was incredibly busy with final projects and internship applications and — suddenly — found themselves floating in a fog of disbelief, stunned by how rapidly and profoundly the coronavirus changed our reality.
Many of us left Eugene. We no longer see the daily "extras" of our individual SOJC experiences — Tom Lundberg smiling in the J-cage, Amy Boutell running upstairs with a folder, Dean Molleda's "Buenos días."
While #LifeasaJStudent is different, it is still good, and we will continue our useful contributions to our information-hungry society.
As we transitioned to a virtual program, Kim Sheehan reached out to my Master's in Advertising and Brand Responsibility (MABR) cohort to offer her support.
At the same time, brands sent a deluge of emails about how they would respond to the coronavirus. Many emails provided helpful information, but some felt like advertisements exploiting consumer anxiety. I proposed to Kim that we create a best-practices guide for responsible communications during the pandemic.
"I'll do some digging on this as well," Sheehan wrote back.
Fast-forward a few weeks, and Kim has set up a new website to host MABR white papers, including our guide to COVID-19 communications.
My class and I sent surveys regarding emails and Twitter to more than 250 consumers through Amazon's Mechanical Turk crowdsourcing platform on April 6. On April 16, they sent additional surveys to gauge responses to television ads. Three weeks later, they sent another round of surveys to see if perceptions had changed.
Over 70 percent of emails communicated schedule changes. Half provided some support for social distancing efforts. About 40 percent conveyed how companies would support their employees or offered messages of hope.
In February, the World Health Organization (WHO) declared the pandemic an "infodemic." I was particularly interested in how brands would step up to fight misinformation about the coronavirus. About 28 percent of their emails did so, with 16 percent including links to the WHO or Center for Disease Control and Prevention's (CDC) websites.
Comparing the email content with our consumer survey, it seems like brands got the messaging right. Overall, people said they felt better after reading emails referring to the coronavirus.
Our survey respondents reported that notifications of schedule changes were the most appropriate information for brands to send. They wanted to hear how brands would be protecting their employees' health and supporting them financially, as well.
Two-thirds of respondents said it was appropriate to send links to the CDC and WHO websites, along with other messages aimed at reducing misinformation about COVID-19. Two-thirds said messages giving incentives were appropriate.
Overall, these emails generated more positivity towards brands than negativity. About half of respondents said messages regarding coronavirus made them feel more positive about brands. 19 percent said they felt less positive, and 32 percent said the messages did not change their feelings.
The types of messages that consistently made consumers feel more positive about brands included information about protecting their employees' health, incentives to consumers and messages about helping employees financially.
Messages that advertised virtual services most consistently provoked negative reactions. About 1-in-5 respondents said advertisements for brands' apps and online stores, as well as ads for online classes and webinars, made them feel less positive about the brand.
Finally, we found that a quarter of people are "really scared" for the health of their families or their local economy, so it's important for brands to be sensitive. People trust brands slightly more than average in times of crisis and believe "brands have a responsibility to meet their evolving needs during this time of uncertainty."
For those of you managing social media accounts and heading into the public relations or advertising fields, I hope this helps you frame your messages. Even though we've gone our separate ways. Make sure to connect with your professors — like Sheehan — who are always helpful and encouraging.
While it's clear that #LifeasaJStudent will be markedly different, due to COVID-19, we've always known we'd have to be adaptable and resilient as we enter a changing media landscape. Roll with this one, and stay safe.
---
Adam Spencer is a Master's in Advertising and Brand Responsibility program graduate and the innovation management assistant at UO's Innovation Partnership Services at the University of Oregon. Since attending the SOJC  as a journalism undergraduate student, he has worked as a documentary filmmaker, conservation scientist, study abroad professor and strategic content producer specializing in environmental issues, culture and human rights.