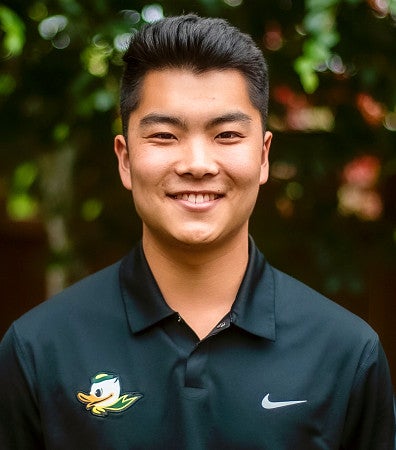 Travis Kim, advertising '18 and master's in advertising and brand responsibility '19, was always drawn to creating. He made a lot of art growing up, and, in high school, he got a camera and taught himself Adobe Photoshop and Illustrator.
"Design was always something very central to how I interacted with the world, things I cared about, what I was really fascinated by," said Kim.
But while he was growing up in Hawaii, he didn't realize his inclination for design was something he could make into a career.
"The billboards and the commercials just felt so far away, and so kind of impossible to be a part of, whether that's film or television … all the creative things I was fascinated by," Kim said. "For the longest time, I didn't know there was a path or a career that involved design and art and being creative. I figured that at some point I would have to give up being creative."
And yet, his interest in creativity played a central role in his decision to come to the University of Oregon (UO), and, eventually, to the UO School of Journalism and Communication's (SOJC) advertising programs.
"I remember that I had gotten this piece of mail from Oregon, and the copy that was written, the witty personality, it's something that resonated with me," Kim said. "That was the early beginnings of me realizing advertising is something I pay attention to."
Kim was also interested in doing work that would make an impact. While problem solving and ethics are woven into the advertising undergraduate degree, the Master's in Advertising and Brand Responsibility (MABR) advances advertising professionals' ability to counsel and guide brands toward more socially responsible thinking and actions.
Kim graduated with an undergraduate degree in 2018 and his master's degree in 2019. Now, a few years into his career, he's found learning the brand responsibility approach to advertising and building the confidence to articulate big issues has given him a distinctive advantage in the workplace.
Creativity in action at UO
When he got to UO, it took Kim some time to find his home at the SOJC. He started off his college career as a product design major in the College of Design, but he was simultaneously working in design and strategy roles across campus, including as a graphic designer for DuckTV and EMU Marketing.
He also worked with then-assistant director for student orientation Keith Frazee to build UO Student Orientation's Flight Crew, an outreach project where students personally texted prospective students. Kim, as student director of the program, trained the team, developed the messages and built out Flight Crew's creative strategy.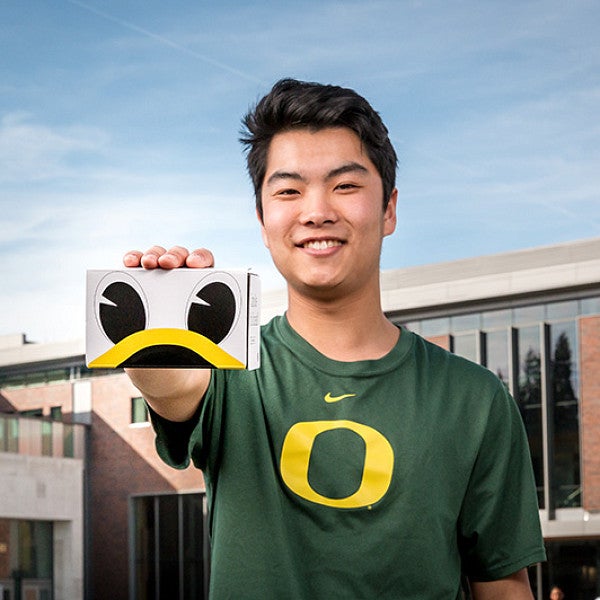 "It provided me with a unique glimpse into so many nuances of communications — from choosing the right tech vendor to partner with to navigating the multitude of potential responses we'd get from students," Kim said. "It was a lot of learning on the fly!"
He found this orientation-related work spoke to him, as he was passionate about helping other students feel belonging on campus through a "human touchpoint."
Kim's work with the Flight Crew helped lay the foundation for UO360, an app that uses virtual reality to convey the energy on campus to prospective students, especially those who can't visit in person. With UO360, Kim and his team wanted to make the Oregon experience accessible to as many students as possible.
The project is still going strong. Today, students using UO360 can, for example, hear from track athletes, watch dance classes and get a behind-the-scenes look at photoshoots — all in virtual reality.
Finding the advertising program
Many of the students Kim worked with in all these roles were SOJC students.
"Even before I switched over to the journalism school I was comingling with this crowd," Kim said. "I was like, 'You do this for your classes? You guys brainstorm and come up with cool ideas and make cool posters?' Their career path was toward something that's very creative and tangible and visible in the world."
He took an SOJC class, and from that moment, he knew he wanted to join the advertising program.
"That's when the gears started shifting for me: Your creativity is a strength, and your creativity isn't something you have to give up for an adult job," he said.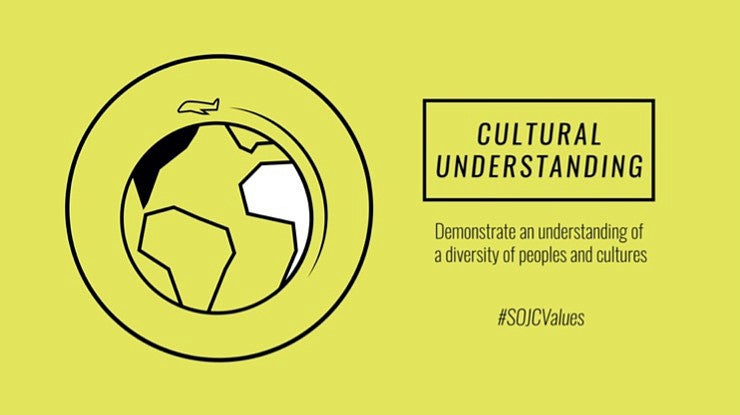 He also joined Allen Hall Advertising (AHA), a student-led advertising agency at the SOJC that works with real-world clients.
"Once I heard about AHA, the fact that they were creating things that would live in the real world and have real value for people, I was like, 'Oh, my gosh, this is something I want to be a part of,'" Kim said. "I was eager to work with writers and producers and illustrators, with people in the advertising program who were equally as ambitious and excited about the work as I was."
During his time in AHA, Kim filled every creative role there was, jumping from creative direction to design to strategy to copywriting, and eventually serving as a director.
One of the projects Kim found most impactful was creating a "brand" for SOJC values during the program's regular accreditation review, which involved making icons, banners and digital visuals for use throughout Allen Hall.
His main takeaways from his time in AHA were the value of collaboration and the connections he built within the program.
"I think AHA was a leaping pad to be like, if we put our heads together and we have a big goal, we can create something pretty exceptional," he said.
From master's program to a real-world job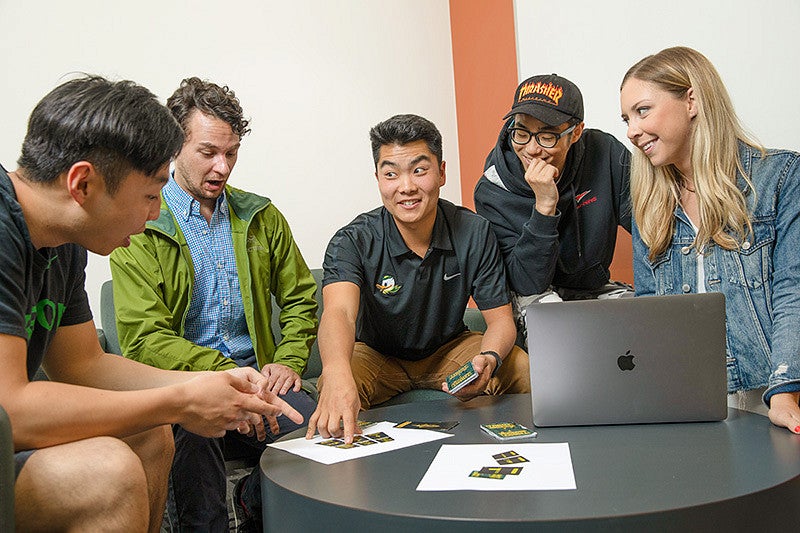 After graduating with a bachelor's in advertising, Kim wanted to take his education further and joined the first cohort of the MABR program, a first-of-its-kind graduate program for advertising professionals who want their work to benefit people and the planet.
"How do we give brands, our clients, the confidence and strategy and data and creative so they feel that they can participate in culture?" Kim wondered. "How do we arm them with whatever they might need to approach big issues and depart from the status quo? The brand responsibility program gives you the language and the skillset to navigate those nuanced conversations, and to push and provoke and move the needle with these clients."
He's found that what he learned in the MABR program has set him apart in the professional world.
"I think that program was ahead of its time in a lot of ways," said Kim. "I got to my first job and was talking a lot about impact, brand responsibility, purpose, mission — and the conversation was lagging. There was a gap. Even being naïve to the industry, being at my first full-time job, this brand responsibility way of approaching advertising gave me the biggest advantage in the workplace."
Kim's first job after graduating was as a strategist at T Brand Studio, the in-house agency at The New York Times (NYT). One of his first projects involved partnering with Yogi Tea — coincidentally, a company founded in Eugene. He and his team built an immersive webpage and worked with photographers to capture people's morning routines.
After working at NYT, he moved to the agency BBDO. Then, after more time at the NYT, he went to work for Axios, a news platform that focuses on politics, business and other breaking news.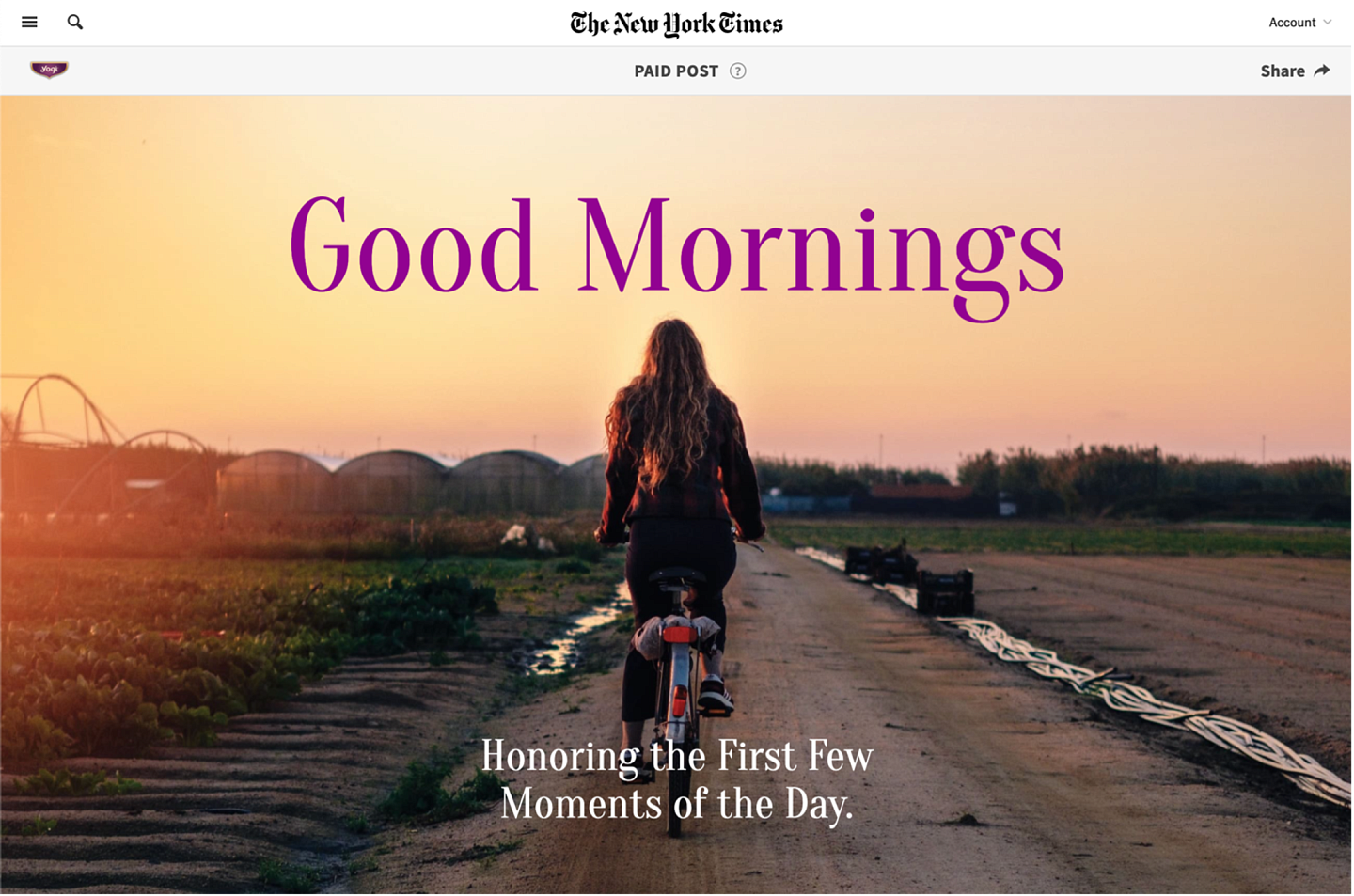 At Axios, he worked his way up to the associate creative director title and was mentored by the CEO. During his time there he built out the platform's creative strategy and worked in-house with brands advertising on the platform. As is usual for Kim, his work there took many forms. For example, one of his last projects at Axios involved creating a museum-like exhibit with Bank of America and the Smithsonian.
Because Axios focuses on news, a lot of the brands he worked with were inherently impact-focused. Their goal was to show up in larger conversations. Kim's role was to help the messages of the brands on the platform resonate with target audiences. This included Bank of America's celebration of Latino heritage and Salesforce's efforts to reduce the racial wealth gap.
He's found that his master's degree has helped him think more critically for clients and offer deeper insight into how companies can make a positive impact on society.
"My ability to articulate the big issues that we're facing as a society and in advertising, things like race and climate change, and to talk about that confidently, is a skill that we think would be commonplace but really isn't," he said. "Kim Sheehan and Deb Morrison and their work in creating that program has set me up for a really successful career, and I'm indebted to them."
Taking a leap on his own
Kim was eager to know what else was out there, so, in fall 2022, he became a full-time freelancer. In addition to lining up new projects before he left Axios, he's found that his UO SOJC network has extended far beyond his time as a student.
"I'm pitching new business with two other UO graduates," he said. "There's this sort of magical thing about Oregon alumni. And the recognition of this started with AHA."
Now he spends much of his workday collaborating with clients, building out his portfolio and doing creative and strategy work. It's a departure from his previous publisher-side experiences, but a return to his love for jumping between roles and for the craft itself.
"It's a big step and kind of a crazy thing to do, but I'm just kind of following my curiosity," Kim said. "The exploration is really crucial to me."
—By Chloe Montague, class of '24
---
Chloe Montague, class of '24, is an advertising major and multimedia design minor working as an intern with the SOJC Communication Team. You can find more of her work on her portfolio at www.chloemontague.design.